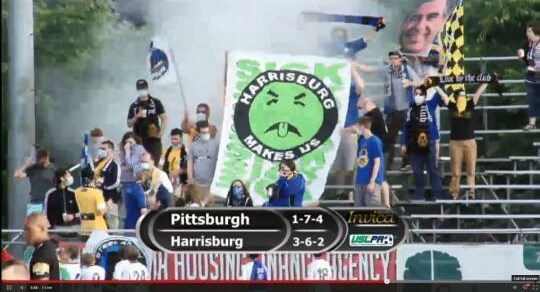 We asked…
You answered…
We announce….
After strong demand for a bus trip to close out the regular season in Harrisburg, we've made a few phone calls and grabbed what may be the only remaining charter bus in the Western PA region for September 19.
That's right, we are going strong for a second, get a little crazy, make a little noise, don't think about getting any sleep on the drive home bus trip of the season!
The cost per seat is $35, with reservations being taken in our on-line store. The itinerary for the day looks like this…
1:00 PM – Depart from the West Lot of Highmark Stadium
2:30-3:00 – Rest stop along the PA Turnpike
4:45 ~ 5:00 Arrive at McGrath's Pub in 'downtown' Harrisburg (Same joint we took over last year)
6:00 – March onto the island and into Skyline Sports Complex
7:00 – Kickoff
8:55 – Lift Keystone Cup and parade back to McGrath's to celebrate
10:00 – Depart from McGrath's
1:30AM – Arrive back at Highmark Stadium
If you went on the bus trip last year, you know what you are getting yourself into. If you haven't gone before, be ready for a great time. We will walk into the place, own it for a couple hours, and leave the locals behind to pick up the pieces.
Unlike last year's trip, there is plenty on the line in this fourth matchup of the season between Harrisburg and Pittsburgh. The teams are currently neighbors in the table with the playoff cutoff line between them. Playoffs aside, the inaugural Keystone Cup will be awarded that night. The Hounds lead the season series 2-1 with a three goal advantage. You guys have seen how many ounces that cup can hold, right?
We don't see a reason why this bus won't be packed. As supporters, it's games like this that we live for. Clear the calendar and make it a point to get on the bus. We want to see all the regulars, we want to see a bunch on first-timers. We want to show up and make the locals miserable.
#UNLEASH