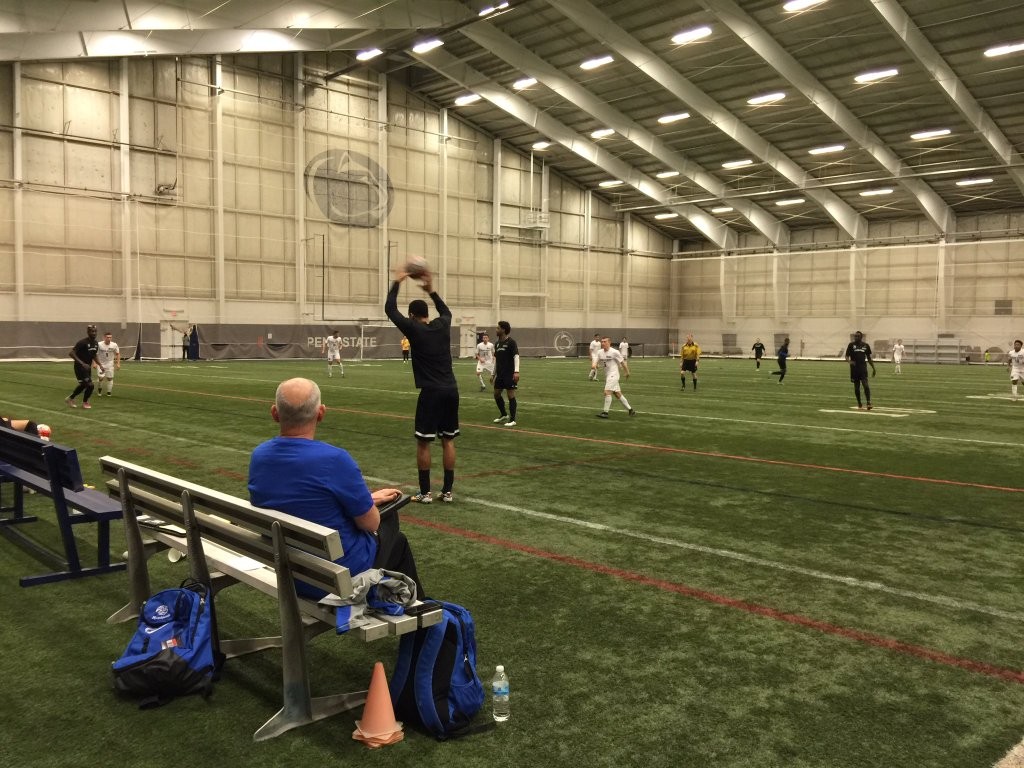 The 2016 version of the Pittsburgh Riverhounds started their campaign with a 2-1 victory over Penn State at the college side's indoor facility. It appears that everyone survived the contest without injury and 19 players, signed and unsigned, took to the field for the professional club.
Mark Steffens' first starting XI of the year featured six returning players, four totally new faces, and a returning Hunter Gilstrap between the woodwork. Penn State alum Corey Hertzog started up top to lead the Hounds attack.
With early exhibition contests comes a slew of names not (yet?) on the roster and one of them found their way onto the field to start the friendly. Someone with the last name 'Murrell' was listed as the left back for Pittsburgh. A quick search through the Googles reveals that it was probably Jordan Murrell, a Syracuse alum who spent last season with Real Monarchs SLC after being drafted 57th overall by the parent club in the 2015 MLS Superdraft. Murrell racked up 14 USL starts for the MLS club's reserve side, with 17 league appearances, in all.
Two other previously unknown names accounted for the Hounds' second half goal, as Caleb Postlewait connected a cross to Duwayne Ewart's head for the game winning tally.
Postlewait graduated from Butler (Bulldog, not Golden Tornado) last semester and was named to the 2nd team All Big East for 2015. He started all 18 matches in service to the Indiana school. A quick search makes it appear he plays primarily on the left side of the midfield and has the ability to drop back and play a more defensive role as needed. He posted a pretty sweet recruitment video which we share. His hair game is on point, too.
Duwayne Ewart is a 17 year-old (17!) from the Great White North who played for Canada at last year's CONCACAF U-17 Championships. The Scarborough native found the back of the net three times in 480 minutes of action during the tournament held in Honduras. Ewart's Canada Soccer profile page (updated last Monday) and a message on his youth soccer club's Facebook page has him signed as a Riverhounds player.
We will get a better look at the Hounds a week from today, when the club host The Ohio State at 2pm. Attendance is free and a couple of us will be sitting in the grandstands to make our own (mostly inaccurate) observations. We hope to see you there.
#UNLEASH