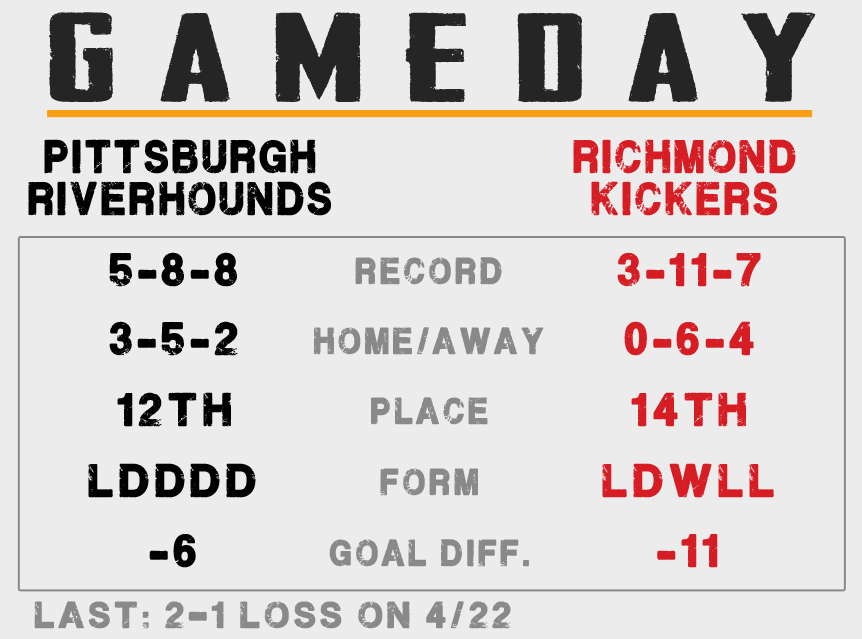 7:00 PM – Highmark Stadium
Whatch Live Via Youtube

Match Officials, as assigned by PRO

REF: Mr. Henrik Karlsson
AR1: Mr. Alfonso Farjado
AR2: Mr. Maxwell Hartman
4TH: Mr. Tyler Beck

Morning Line Odds via BET365
PIT -125
Draw +240
RIC +275

Now that Mr. Rogers' Friendly Skies have taken to the air and crashed "gracefully" into the Allegheny, it's time to get down to business. A shockingly bad Richmond Kickers come to town tonight for a must win game for the Hounds. The Hounds are only one point out of the playoffs, but as the season comes into it's final stretch the margin of error is getting ever smaller. The team needs to stop treading water like they have over the last month and get some results. Richmond is the perfect opportunity. Not only are they a bottom of the table team, but they haven't won on the road this season. As long as the Hounds can play like they did against Charleston, and not Tampa, tonight should be easy pickings. A jump in the USL standings and continued dominance in the Old Guard Shield will make this beautiful day in the neighborhood all the better.
#UNLEASH