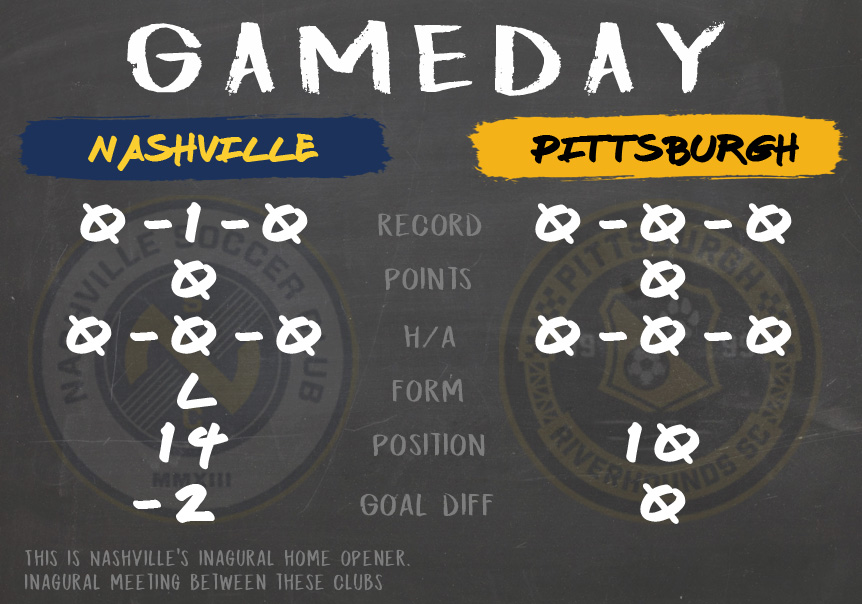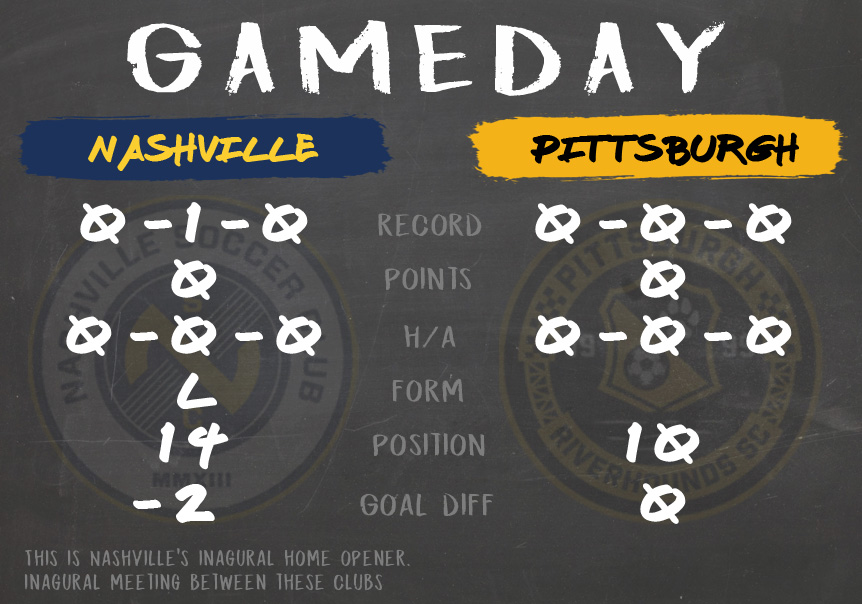 Nissan Stadium – 6PM
Watch: Locally – Pittsburgh CW (channel locator) Elsewhere: The YouTubes

REF: Mr. Leland Grant
AR1: Mr. Ryan Starr
AR2: Mr. Thai Huynh
4TH: Mr. Michael Smith

Via BET365
NSH: +125
Draw: +240
PIT: +162
Not much to talk about, right?
After an offseason that has borne a new badge, new head coach, major roster turnover, stadium expansion (hopefully?), an expanded fixture list and league size, the 2018 USL season has *finally* arrived. Where we go from here is beyond anyone's guess. We think it'll be better than 2017, which was better than 2016, which is all nothing more than damning by faint praise. Because, no matter how confident a face any of us can put on, that doubt and uneasiness will still rest in a little spot in our collective stomach until we see otherwise that its safe to take a big, calming breath.
Nashville SC hosts their first match as a professional club with north of 20,000 people expected in the stands. An exciting atmosphere for most anyone will be compounded with the normal first match jitters. Is Nashville the team that looked a bit rudderless last week in Louisville, or is that more about how the defending USL champions make many opponents look when they visit Slugger Stadium? Can Bob Lilley and his side calm a frenzied crowd and begin to take that element out of the match early with lots of possession or even an early tally? Will Nashville come out in the first 10 minutes with guns blazing, control the tempo with a crowd ready to back them for the full 90? A lot of questions out there and no that many data points to help provide the answers. Its the excitement and unknown of a season opener in full display in front of a massive audience.
While we could ponder an almost limitless number of questions about this squad, let us focus on four big inquiries.
Where do the goals come from?
If anything has been made clear by Lilley since his arrival to Pittsburgh, it is that he does not want a team that has to rely on one or two individuals to produce 80% of the goals, It makes the side too one-dimensional and allows the opponent to focus on defending those key individuals to siphon off the offense. What was see now is a corpse of forwards that hopefully can all contribute in different ways to make the attack for dynamic. If Romeo Parkes, who gets pushed forward from his attacking midfield position last year, can find the form he had in early 2016, then there may be a star in the making. A lot of us feel that the potential is there, it may simply be a question of seeing the potential unleashed. Beyond that, Robert Morris product Neco Brett has looking threatening, as well. Then there is the veteran, Dennis Chin. Is he a guy who can give the opposition different looks than Parkes and Brett, or does he provide a jolt of energy off the bench in the last 20 minutes. Possibly either, depending on the situation. As with all of this, predicting a starting XI is the first step in seeing how the pieces fit together, but very little has been given away as to who could see regular starts. Intriguing, all of it.
Does the goalkeeping have the skill to make up for its lack of professional experience?
The first position that was sorted out this offseason was the guys between the posts. Mike Kirk, Dan Lynd, and Kyle Morton were all signed straight away as the preparation for 2018 had started. Of the three, only Lynd saw playing time last season, and that was mostly thanks to injury. Bob Lilley expressed total confidence in the squad at the holiday party, and his track record of strong keeper play would suggest he knows what he wants and what works. However, one of the glaring issues in the preseason matches was shaky goalkeeping, through miscommunication with the defense could account for much of that. In any case, for a team that is comprised with a lot of guys with a fair amount of professional experience, the goalkeepers are a notable exception. Is the talent level there to steal a point or two when other things are going so well? Its almost impossible to know because there is little to form an opinion.
The other part of this is that goalkeeper coach, Hunter Gilstrap, seemed to work wonders with his guys last season. If he can replicate that formula this season, then the lack of experience may play even less of a role as the season progresses.
Does the defense have enough of *it*?
We can't define 'it'. You can't either. But, you could probably point it out if you saw it. The backline appears to be under the command of returnee Joe Greenspan. Lilley spent much of the preseason games giving instruction to Joe, who in turn had to captain the other defenders in executing the coach's instructions. We all saw what Joe is capable of when he spent a fair amount in Pittsburgh last season as loanee from Minnesota. But, with three  (or more?) new faces the round out the defense, the question remains if they have come together enough as a squad to be an effective back four (five?). There isn't a expectation that its all sorted out in matchweek one, but will we see it improve over the late preseason matches and into the second month of the season?
Which is stronger: the ability, class, and track record of Bob Lilley or the perpetual folly of the Riverhounds?
We wouldn't include this except that we've heard a variation of this though so many times in the past couple of months that its worth throwing it out there in the open. Essentially the thought is this, if Bob Lilley can't turn this around and make this Club competitive, then do we just chalk it up to the Club being cursed and know that our fate is to always support a side that will almost be on the wrong side of the hump? You know you've wondered it in your own terms. We all have. Lets just be honest about it. Everything is lining up for 2018 to be a banner season (maybe not banner in the literal sense, but you know what we're getting at) for the Hounds. If it can't happen under these circumstances, what would it eventually take, if anything? (Don't answer that question out loud.) Don't dwell on this last part, but just know you aren't the only person thinking it. Its ok. You wouldn't be a true Hounds supporter if this didn't occupy at least a little bit of your subconscious,
Today is a day to be optimistic, excited, and filled with some nervous energy, Next week, even more so. Lets all try to just enjoy the ride for a little while without being too worried about the destination. Easier said than done, we know. Its match one of 34, with hopefully more than a single Open Cup tie sprinkled in along the way. Lets make it fun.
WATCH PARTY
If you haven't yet heard (and seriously, if you haven't then where they hell have you been hiding) ,tonight, we are hosting a watch party! All of your rowdy friends are heading to Smokin Joes (2001 East Carson Street) to have a couple beverages and enjoy the match on the big screen. We've rented out their private upstairs room, so no issues about having the sound on or having to hear anyone cry about soccer being shown. The response so far has been great, so we're expecting a packed house. If you aren't afraid to being a little close to some new friends, you should be there. If, by some chance, we pack the upstairs room, we'll spill out into the main bar and take over some more tvs. Party starts at 5. Kickoff is at 6. Victory drinks around 8.
UNLEASH!