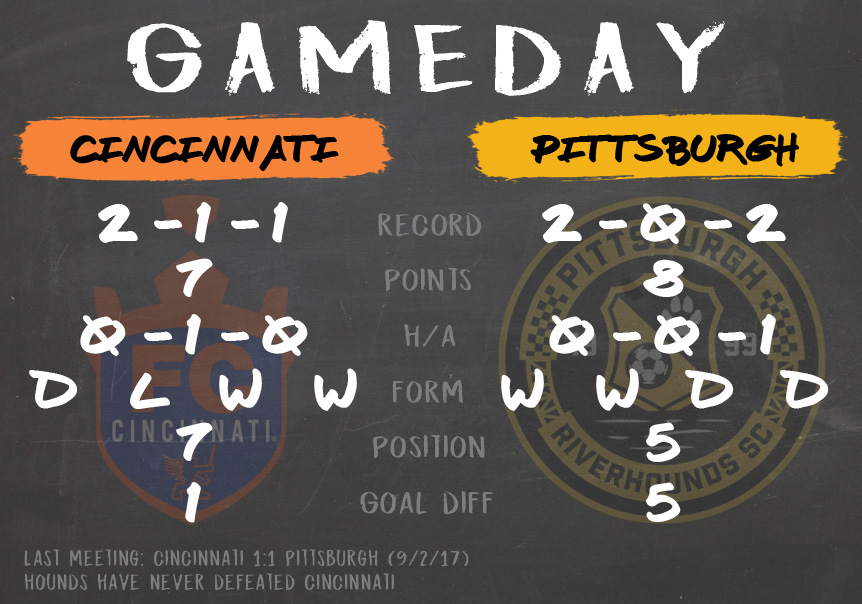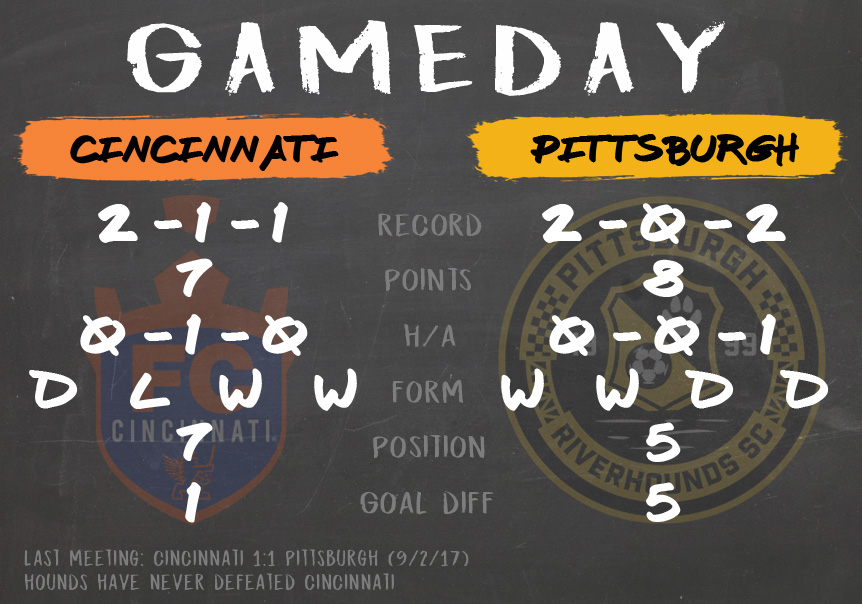 7PM – Nippert Stadium
Watch: Locally on Pittsburgh CW and nationally on ESPN+

REF: Mr. Greg Dopka
AR1: Mr. Benjamin Hall-Volpenhein
AR2: Mr. Kevin Lock
4TH: Mr. Noah Matos

via BET365
CIN -110
DRAW +260
PIT +220
Welcome everyone to the match that isn't a rivalry, despite the league and some other interested parties really wanting it to be so. The Hounds travel to Cincinnati to play a match in a college football stadium against that city's local soccer club.
We wish we could write a bit more than that, but we've reached a point of Riverhounds coverage where there is already better and more comprehensive things being written about this match. So, how about we just link to that work and then we can talk about watch parties and bus trips.
First we have John Krysinsky's look at Thomas Vancaeyezeele's unique path to the Hounds. Stunning that the guy was being so overlook by, apparently, everyone. Unreal…
On the league site, overall good guy who puts up with our crap more than he should, Nicholas Murray, writes about last week's surprising (yet humble) goal scorer Tobi Adewole.
Then, this morning, Matt Grubba posted his three keys to tonight's match. As always, Matt brings the goods. He'll be at the match tonight, so be sure to follow him for the in-match updates.
Pittsburgh soccer Now also has an incredible tactical breakdown by Mark Asher Goodman in his scouting report on FC Cincinnati.  Mark will be moving to the Burgh soon and will be a fantastic addition to the city's soccer scene.
The boys over at Mon Goals had a chat with some dork in Cincy about tonight's match. It'll make a good listen while you're driving down to tonight's watch party. You are going to the watch party, right?
Finally, in the stunner of the week, the Post-Gazette remembered that the team exists and had Omari Sankofa II write a story on Bob Lilley's start here in Pittsburgh and on the Hounds' success in the early going. Good on the PG to remember that Pittsburgh soccer is indeed a thing. Hopefully they show up for a match or two.
Imagine all this Hounds chatter even three seasons ago. What a time to be alive. Now,  onto more Steel Army centric things…
The Hounds have taken the lead on tonight's watch party at Smokin' Joes. We'll be back upstairs where we were for the season opener. There will be food and drink specials as well as a free round of Golden Hound for every Hounds' goal. We will also be taking up a collection for the Banjo Family Recovery Fund and hope you will be able to contribute. It'll be a great night as always, hope yinz can make it!
We have some faithful making the trip to Southern Ohio. We'll be looking for their updates and thoughts as well. Save travel to them.
Finally, remember that the registration for the bus trip to Richmond is still going on. We need to pack a bus in order to go, so sign up ASAP either online or in person at an event (such as tonight's watch party). The bus trips are more fun than you can imagine. You want full fledged Steel Army galvanizing moments? Then the bus trip is for you!
Its a yardstick-esque match up for the Hounds. As strong showing tonight will go a long way in proving that this team can compete with the best in the East. We know the pieces are there and we know the tactics are there, if it all comes together, then tonight will really kickoff the season.
UNLEASH!