The opening weekend of the 2016 USL season is in the books, and while the Hounds didn't have a fixture, there is a bit to review around the Eastern Conference. Don't mind us if we ignore the Western Conference as they might as well be in different league, as the Hounds face them zero times a year, absent a USL tournament championship match.

Montreal 0:1 Lehigh Valley
A battle of MLS baby clubs opened up the USL season, as Fabian Herbers put the away side ahead on 43 minutes to bring all three points back across the boarder.
New Jersey Sugar Free Energy Drinks 2:2 Toronto
Still more MLS-on-MLS action with Toronto emulating the parent club by squandering a two goal lead. Brandon Allen bags a second half brace in three minutes to split the points with their Canadian guests.
Richmond 3:1 Harrisburg
The most beautiful sight of the weekend was watching Harrisburg keeper (and Steel Army anti-legend) Nick Noble concede two goals in 24 minutes and three goals overall to help gift the Kickers all three points. Harrisburg was a comedy of errors. Most notably on the third goal, when a City Islander defender gave a weak backpass that was collected by the Richmond forward who calmly slid it past Noble, who did his classic 'dive away from where the ball is going' maneuver.
Also of note was that Harrisburg's roster was announced with only one 'goalkeeper' (term used liberally when describing Noble). We were curious what their plan was to field a backup keeper. It appears that City Islanders dressed Riverhound's third string keeper, rookie Brenden Alfery. Why this transaction was never announced is an ongoing mystery. (Update: Hounds called it an emergency loan. Emergency is now code for 'they still only have one keeper signed'. Safe to figure that it wasn't announced because 'meh' to informing the fan base.)
Charlotte 0:1 Louisville
The first of two injury time game winners with Cameron Lancaster banging home an upper 90 free kick from 22 yards out on literally the last touch of the contest. A snoozer of a fixture saved at the death for the visitors. Good times for the L-ville faithful before they open their home schedule next week with team/supporter group relations in a bit of a mess.
Disney Lion Cubs 1:2 Wilmington
The old guard pulls off a little bit of a surprise by snatching all the points, as the visitors ruin the debut for Orlando's new/old USL club. Former Hound, Andrew Ribeiro, becomes the answer to a crappy trivia question by scoring the first goal in Orlando's baby club history. The game was temporarily halted during the first half with lightening in the area.
Charleston 1:0 FC Corporate Sponsorship
Another game that had weather related issues, with kickoff delayed nearly an hour with heavy rains soaking the pitch before kickoff. The natural grass filed played slick all evening, forcing a more aerial game than either team would have probably preferred. In the end, the established home side stole all the points in a game that has 'draw' written all over it. Romario Williams found the back post on a sharp angle tapper with less than a minute remaining to send (Toyota) John Harkes and his team back up to Cincinnati empty handed.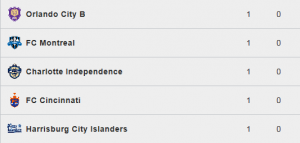 With the only two Eastern teams without a match, the beloved and Rochester now sit in 8th/9th place. At the bottom, Harrisburg is propping up the embryonic table by way of their two goal margin of defeat.
The activity on the blog will get going in earnest this week in the run-up the opener on April 2. The online store is now up and running by way of the link at the top of the page.  Until then…
#UNLEASH