PITTSBURGH'S SUPPORTERS

Loud. Dedicated. Passionate. We are the rabid fans of the Pittsburgh Riverhounds. The Steel Army is an independently operated and financed supporters group for the Pittsburgh Riverhounds Soccer Club. We call the stands behind the east end goal of Highmark Stadium our home during every Riverhounds match. For 90 minutes we sing our hearts out, bang our drums, wave our flags, and create an atmosphere like no other in Pittsburgh sports.  We bring the energy to carry our beloved Hounds to victory. We make Highmark Stadium the placed to be for Riverhounds fans and hell along the Monongahela river for opposing teams. If you're a fan of soccer, a Riverhounds supporter, or just want to have an amazing time — then we want you standing by our side.  Come on over to our section and see what being in the Steel Army is all about!
The idea of a supporters group formed online in November 2007 by a group of passionate soccer fans after the Pittsburgh Riverhounds announced a new ownership group and a return to USL-2 for the 2008 season. A few weeks later in December a small ragtag bunch met up at Piper's Pub on the South Side to lay the ground work for what would become the Steel Army. The Steel Army quickly developed into a dedicated core of supporters that have followed the Hounds ever since. During the Hounds' time at Chartiers Valley, despite looks from around the stands ranging from confused to amused, we cheered on our boys and made the opposing team miserable. Our numbers may have been small, but there was no denying our passion.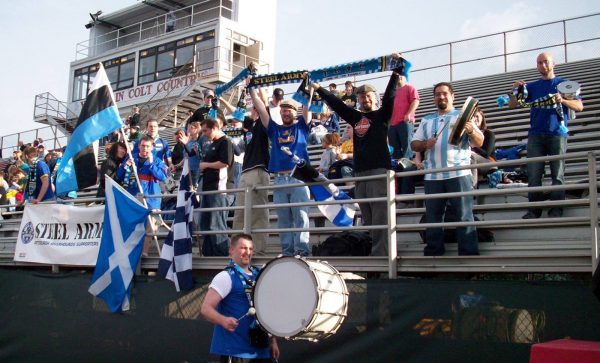 The 2013 season was a major season for both the Riverhounds and the Steel Army. The Riverhounds moved into their newly constructed Highmark Stadium in Station Square, and the Steel Army found a new home behind the east end goal. Since that memorable first season the Steel Army membership has exploded as more and more new fans come to the Highmark and get hooked on the Riverhounds. Ever increasing support has allowed the Steel Army to do bigger and better things such as merchandise, tifo displays, away trips, and other activities.  As the Steel Army continues to grow, we look forward to new members and new adventures in the years to come.
DISCLAIMER
The Steel Army does not condone violent or offensive behavior in or outside Highmark Stadium. Steel Army members and guests are expected to not cross the line of criminal legality. This includes, but is not limited to, personal problems, bigotry, sectarianism, violence, criminal mischief, or hooliganism in any of its forms. We enjoy a good working relationship with the Riverhounds front office and intend to keep it that way.