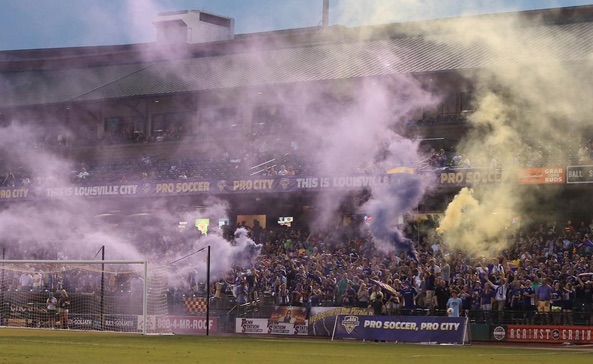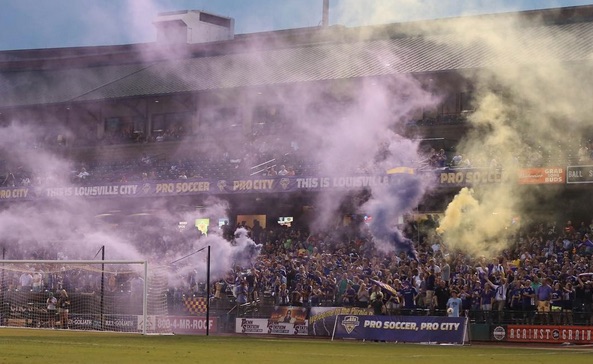 Opponent: Louisville City FC
Record: 4-1-0 (1st in East)
Supporters: The Coopers, Louisville Heritics, Derby City Ultras, and probably 5 other groups we missed.
The Riverhounds travel to Kentucky Wednesday night to face first place Louisville City FC. This could either be a huge win to possibly kick start a season, or things could go the other way and our negative momentum will continue to grow. Lets delve in to whats going on with the other table topping LCFC and check out their season so far and their supporters.
Louisville is in their second year as a franchise and appears to be one of the better expansion teams, passing the Hounds in both attendance and on field performance. LCFC play at Slugger Field, a minor league baseball field that holds 8,000 for soccer games. They're a well attended team, especially in the supporters sections. Louisville City is minority owned by Orlando City, and technically took Orlando's place in the USL when they went to MLS (hence the purple and gold). They seem to have visions of MLS expansion in their minds, but that can be said for a lot of cities at the moment.
The main supporters group for Louisville City is called the Coopers, named after bourbon barrel makers, which is kind of cool, being a big bourbon man myself. The grouped formed in 2013 even before the team was in the making and even had a small part in getting the team. The Coopers met with potential owner Wayne Estopinal and Orlando City owner Phil Rawlins in 2014, and after the meeting both believed there was potential in Louisville to field a pro team. The Coopers took an impressive amount of supporters up to Cincinnati for the first round of the "River Cities Cup" between the two teams. It's a similar cup to the Keystone Derby Cup that we all know and love. It also partially replaces the "Kings Cup" The Coopers had with the St Louligans in 2015. Besides the Coopers, Louisville City has several other supporter groups as mentioned up top.
On the field Louisville City are 4-1-0 after coming back from a road trip in which they took all possible points from Cincinnati and Harrisburg. They look to be a real threat in the Eastern Conference. Lou City have had a common opponent in hosting Orlando City B earlier this month. Unlike the Hounds, City put B to the sword, battering them 4-1 at home. A scoreline that most of us were expecting to happen last Friday.
Chandler Hoffman, former Dynamo and Galaxy player has been bagging goals for fun, scoring 6 on the young season and recording a hat trick in 18 minutes against Cincy. Niall McCabe has been providing the majority of the service for Hoffman, currently leading the USL in assists, while Hoffman leads in scoring.
The Hounds had some decent results against Lou City in 2015, winning at Slugger Field 1-0 and drawing at home 1-1. Hopefully we can have a repeat of last years result.
—
I recorded a pod on Sunday recapping the OCB loss and I made my first attempt to upload some player audio. I took part in the postgame media and had some good stuff from Parkes but had trouble uploading, but I'll figure it out. I think the rest of the pod is alright if you get through the Parkes muffles lol.
Speaking of the postgame, Steffens was pretty jacked about the red card and even dared the league to fine him. He wont be happy knowing the red card was not rescinded and Kerr will miss his second game the young season for a non injury reason. Here's to staying positive.
3 points in Louisville!
#UNLEASH