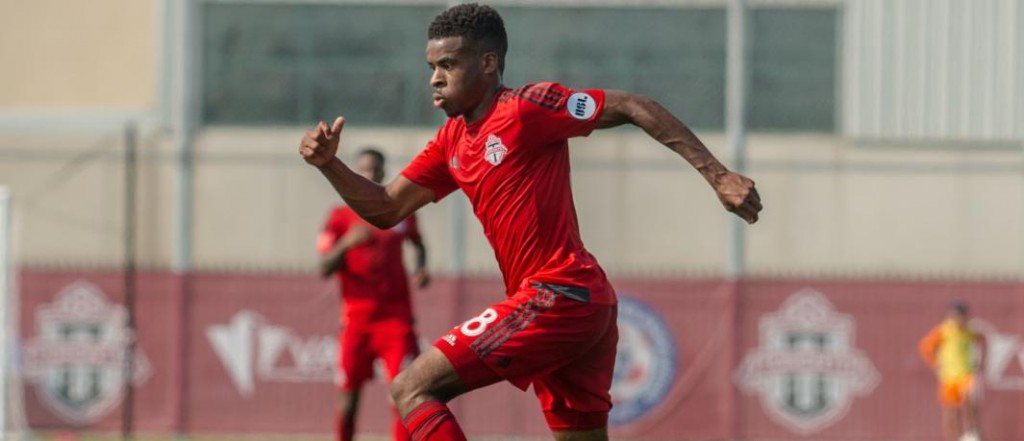 Toronto FC II
Opponent: Toronto FC II
Record: (1-0-1)
Supporters: Not Really
The Hounds look to shake off the rust as the travel up north on Sunday to face to their first MLS reserve side of the season. The Hounds are the only team in the USL to only play one match due to the postponement of last week's home game against Harrisburg. A positive result in Canada would be very much needed. To be honest I was not looking forward to delving in to my first KYE of a "2" team, something about them and the other reserve sides in the league just feels a little off.
So abooot those neighbors to the north, TFC2 are 1-0-1 after beating their fellow Canadian friends Montreal Impact "deux". Some of you may have seen the game winning goal of that game by young forward, Raheem Edwards. He was named to the USL Team of the Week for his efforts, which made its way around the twitterverse last Saturday night.
And not to be out done: Raheem Edwards with a 🚀 to lift @TorontoFCII over @fcmontrealusl tonight at Olympic Stadium. pic.twitter.com/G0j8YPueZp

— Toronto FC (@torontofc) April 10, 2016
As expected with any reserve team, Toronto is a very young team, which I hope will play a factor to their detriment on Sunday. They play a fair share of teenagers and it would be nice if the Hounds professionals treated this like a business trip and came back with 3 points. Pittsburgh won all three games convincingly they played against Toronto last season and a repeat would due the team a world of good. Picking up points against the reserves is something that is going to be imperative if the Hounds want to have any kind of success.
Sunday's game is Toronto's home opener, but I wouldn't expect much of an atmosphere at the Ontario Soccer Centre. Though, to be fair there are a decent amount of tickets sold for Sunday, could be just for the fact it is the home opener. Like most MLS reserve teams, the stadium is mostly empty for the majority of their games. For that reason alone, I'm not the biggest fan of all the MLS 2 teams in the league, but nothing we can really do about that.
Some news about our boys, we will be without Kevin Kerr and Lebo Moloto on Sunday. Moloto is injured, but Kerr is dealing with a different problem entirely, he is having VISA issues. There has been a delay in the processing of Kerr's Canadian work permits and he will not be making the trip up north with the team. This is not the first time this year that a Pittsburgh athlete has had issues with the Canadian government over work papers (see: Penguins and Daniel Sprong). One person that is thrilled with Kerr's absence is TFC2 coach Jason Bent-
"Glad he won't be there [on Sunday], he was a thorn in our side along with Rob Vincent last year so I'm delighted I won't see him this weekend."
It will be up to some of the new boys to get the goals needed for a win on Sunday, according to the coach, the team can't wait to get back on the field for a competitive game.
"Nine weeks with one meaningful game has been hard on the guys. They're chomping at the bit to get out there and compete" Steffens said.
No real news in the Steel Army I can think of at the moment, like the team, I think we are just looking forward to getting some games in, it feels like its been ages. Speaking to that, I can see both sides of the Harrisburg postponement. In the end, the weather wasn't all that bad, but I can see the positives of another home game in June. The action will be coming thick and fast when that match is the be replayed, the complete opposite of the current situation.
Here's to 3 points tomorrow, hoping to record a podcast later today and look for highlights of tomorrows game on the 630 news Sunday in KD country.
#coyh
#UNLEASH