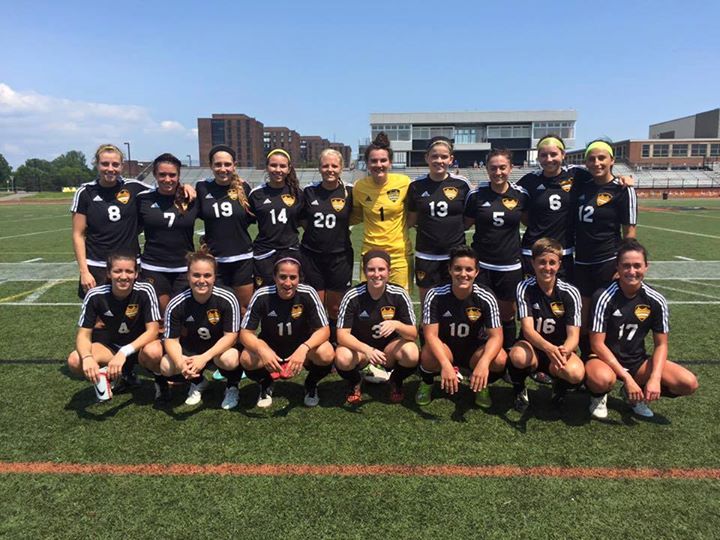 Pittsburgh is a growing city, with opportunities and chances not like anywhere else. If there's one thing you should know about Pittsburgh, it's a city of sports. In 2014, the city gave way for an amateur women's soccer team which would be a part of the Women's Premier Soccer League (WPSL), called Steel City FC.
In the team's first season, they finished with 6 wins, 2 loses and 1 tie which is no easy accomplishment. But it's not the number of scores and wins that makes this team so unique; it's what they do with the public and the community that makes this an awesome team and club.
Stephanie Harrison, the founder and Chairwoman of Steel City says there is still a lot to do. The team has moved divisions in the WPSL which makes for games against tougher teams. I asked Ms. Harrison a few questions via email. In the near future, she sees the team growing stronger with and through the other teammates. "While we haven't had complete success in terms of our win/loss record, we are competing and doing really well against these teams. As we grow and play with each other more, we will only get better and become a real stand out in the WPSL. As time goes on and the players get to know one another better on and off the field we will become much more successful" (Harrison).
The Club is currently with Cameroon Futbol Development Program (CFDP) on a few community outreach projects. One project is set in October called Steel City World Cup. Harrison also says that the club teamed up with CFDP at the Wilkinsburg boys and girls club after school soccer clinic. "Steel City is also planning a one-day girls clinic for the end of August/early September as a means of bringing together girls from numerous suburban youth clubs as well as inner city players in our community using soccer."
Not only is seeing the players improve and perform better on the field and in games a major reward for Harrison but the biggest is the players' impact on the community. She says "Our players are such talented, strong and dedicated women and I love to see a young girls face light up when she gets to meet the players. We have so many young girls in our area that deserve a chance to see women playing at the highest level and to have a team to aspire to play for is so important. That is something I definitely wish I would have had as a kid."
Steel City FC travel to East Lansing Michigan this weekend to take on the Chill. Their next home game is on Sunday July 10th against FC Indiana. Kickoff is at 1:00 pm at the Ellis School.
-Kiernan McCarthy
#UNLEASH