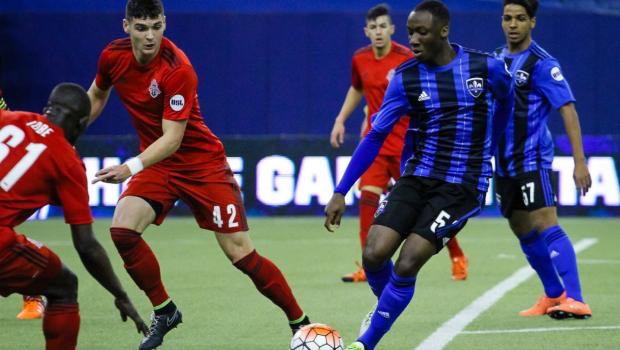 Opponent: Montreal Impact II
Record: 1-10-1 (Bottom East)
Well for once the Riverhounds are playing a team below them in the standings and of course that can only be one team, the Montreal Impact II. The MLS reserve team is the worst in the league with only 4 points and one win.
To be fair to them though, after losing their first eight games, the Impact are 1-2-1 in their last four games, earning all their points of the season recently. Also, their lone win on the season was in Richmond, a tough place to play and where the Hounds just lost 3-1.
Our opponents seem to be trending upward, so nothing can be taken for granted come Saturday. If there is to be any sort of resurgence in the second half of the season is going to have to start with a win over Montreal.
Leading the line for the Impact II is Ballou Jean-Yves Tabla, a Canadian under 20 international who is very talented and has garnered some attention from top clubs in Europe. He leads the team with only two goals, but he has impressed when playing for the Canadian u-20's. He often trains with the first team and learns from Didier Drogba, the soccer legend riding his career out up north. Some big European clubs have even been rumored to bring him in on a trial. in the future, I wouldn't be surprised if he gets some first team minutes with the MLS club in the near future.
Another youngster will be a threat for the Impact II in David Choiniere, a fellow rookie who is looked upon to provide Montreal with scoring. After Tabla, Choiniere is the Impact II's most looked up son source for offense.
Like this season so far, nothing has come easy for the Hounds and I don't think that will change Saturday. The Impact may have a terrible record, but all their games have either been 1 or 2 goal defeats, they are not getting run out of the park. A little bit of form recently and the pressure that will be on the Hounds to win, will make for a nervy Saturday night.
#UNLEASH