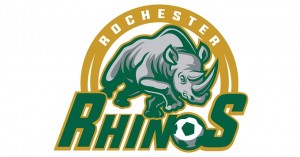 Know Your Enemy: Rhinos Update
Record: 5-4-3 (7th in East)
The title defense for the Rhinos is not going all too swimmingly at the moment as they sit 7th in the East and are not enjoying the greatest of form lately. Rochester are 1-3-2 in their last 6 games and recently lost their first home game since August 2014, falling to Louisville City last Saturday 1-0. In fact Rochester are winless in their last three home games, drawing to Bethlehem Steel and Charlotte before losing to LCFC.
So the seemingly impenetrable force that was Sahlen Stadium seems to be no more, a least for the moment. If ever there was a time for a win in Rochester and possibly a nice momentum builder for the rest of the season, it would be now. Christian Volesky leads the team with 5 goals and is the man who scored the game winner opening night at Highmark Stadium this season.
In other Rhinos news, they dropped out of the US Open Cup in the 4th Round, losing to the MLS version of the New York Red Bulls.
3 points tonight
#UNLEASH