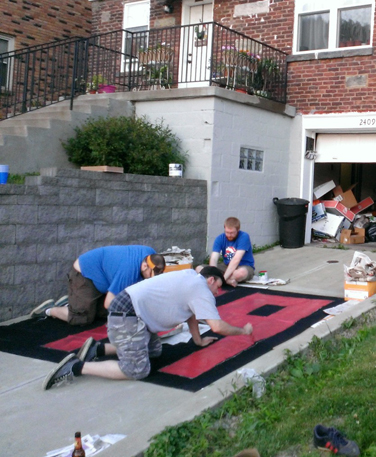 We're under three weeks until the home opener which means we're also under three weeks until our traditional home opener tifo. We have a fun one planned this year and as always we need your help to paint it! Come on out on Saturday March 18th at 9 AM to fellow member's Aaron and Ashley's house in Imperial. To avoid plastering their address all over the internet if you need directions shoot us a message. If we get 10+ people we can usually bang out a tifo in 2-3 hours. If you can't make it until after 11 AM maybe hold off for the next tifo date.
If you can bring a brush we always appreciate it. It doesn't need to be anything fancy. We need big brushes for the middle areas and smaller ones for the detail work. Also a throw away plastic cup to hold the paint is helpful.
Non painters are also welcome to come hang out if you have nothing better to do at 9 AM on a Saturday. Besides painting tifo days are a good time to hang out with Steel Army members and make some unrealistic predictions about the upcoming season.
If you have any questions let us know.
#UNLEASH