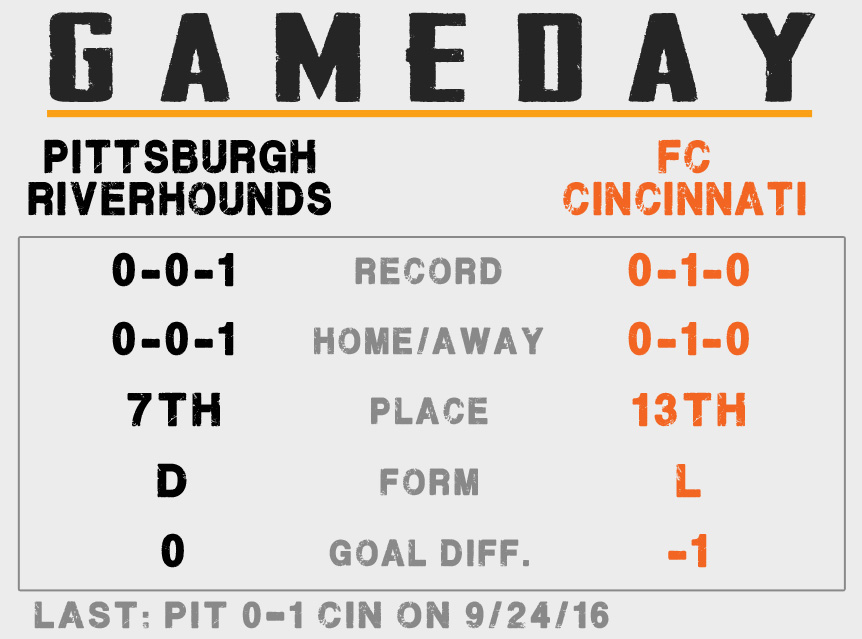 5PM – Highmark Stadium
Match Officials; as assigned by PRO: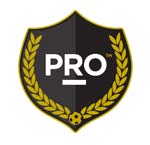 REF: Mr. Guido Gonzalez Jr.
AR1: Mr. Cory Richardson
AR2: Mr. Brandon Smith
4TH: Mr. Maxwell Hartman
Morning Line Odds, via BET365
PIT +187
DRAW +240
CIN +110
Note: Rich Balchan not impressed with how the bookmakers see this playing out…
@Grubba_Trib @PghRiverhounds @fccincinnati Screw em.. they're not on the field

— Rich Balchan (@RichBalchan) March 31, 2017
Last week was fun, wasn't it? We had nearly perfect weather, six goals combined, an early front runner for goal of the year, and a Hounds team that looks like they won't be a trainwreck this season. It was a day that probably all of us would have signed up for when the schedule was (finally) released. Now Houndsmas is past us and the grind of the season begins. All we have to do to follow up the lid lifter with NYRBII is host USL's new golden child, FC Cincinnati. The Natty is coming off a road loss in Charleston and are looking to get their shiny, expensive ship righted for the 2017 campaign. More importantly for us in the stands, FCC is rolling deep in support, with 125-150 orange and blue clad miscreants making the trip to Pittsburgh.  
For the Hounds, it's going to be about finding the ways to get the ball to the feet of Corey Hertzog (USL Player of the Week and USL goal of the Week) and team captain Kevin Kerr so they can deliver the goods. While defensively, the center backs will need to be better organized with everyone closing down on the ball more to prevent the very attractive scoring opportunities that New Jersey was handed last week.   How much of the starting XI will Dave Brandt stick with this week is yet to be seen, but moving a couple guys in and out is expected.  
For the Army, the tailgating kicks off at 2, and better bring your A-game and a buddy or two. We're looking to pack the Paul Child Stand and make sure that Highmark Stadium is clearly rocking for the yellow soccer team.   As for some of the traveling Cincy fans, some of them arived last night and they have posted their plans for today…
We're here in Pittsburgh, ready for tomorrow as @fccincinnati takes on @PghRiverhounds. Here's a reminder of plans… pic.twitter.com/XGL27NODdl — Die Innenstadt (@DieInnenstadt) March 31, 2017
We'll be at RedBeard's on Shiloh St. starting at 9 am to watch @BVB v. @s04. 2:30 PM meeting at Upper Incline Scenic Overlook for photo…

— Die Innenstadt (@DieInnenstadt) March 31, 2017
So, if you having nothing to do this morning or early afternoon and want to make the day unpleasant for the opposition, you know where to go and be terrible.
As for everyone at the tailgate and match, guard your stuff. Don't let your scarf be the newest trophy for a Cincy supporter.
This is going to be a fun day. If you have a game face, bring it.
#UNLEASH