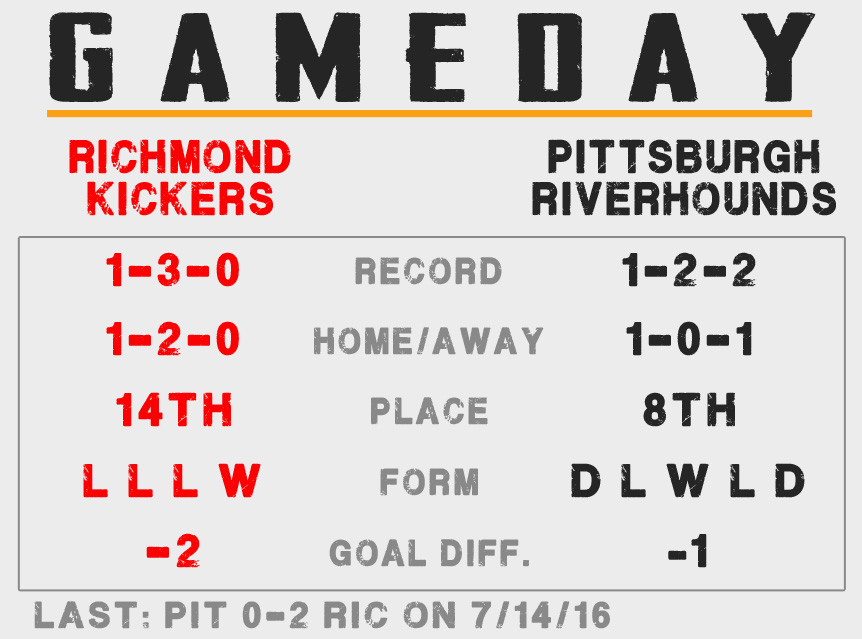 5PM – City Stadium
Match Officials, as assigned by PRO:
REF: Mr. Mark Gorak
AR1: Mr. Ben Pilgrim
AR2: Mr. Will Aten
4TH: Mr. Aaron Hormuth
Morning Line Odds via BET365
RIC -110
Draw +250
PIT +230
Are the Pittsburgh Riverhounds a good team? It is a question no one may be able to answer yet. We've seen the good, the bad, and a little of the stuff in between, so we sit here on this fence about how realistically optimistic we should feel. With all that said, the Hounds' opponent today, is bad. Richmond has one win against three losses. They've been kept off the score sheet in three of those matches, and have a single goal in their lone win. Richmond sits bottom of the East in goals, shots, and conversion rate. While they have been stingy on defense, this isn't your normally competitive Kickers squad. It looks and feels like a down year for them. If there ever was a day for Dave Brandt and the boys to convince the league that the Hounds want to be a factor this year, a road win against a struggling side would do wonders. A convincing win would be even better. Today is not the day to be happy with a point.
For the Hounds, we expect to much the same in term of the offense running through Kerr and Hertzog. Has Banjo worked his way into the starting XI? His offensive output would suggest so, but all of his goals have come in early in the games he starts, or within the first few minutes after he is introduced as a sub. He's become an interesting piece of the squad and how he is used going forward may be a key to the team's success.
For Richmond, it's a lack of offense because of a lack of quality possession. They are lagging in passes, crosses into the box, and 50/50 balls. These aren't the fundamentally sound Richmond teams of as recent as even last year. The Kickers are celebrating their 25th season by playing like it's the old A-League days. Good for them.
Finally, it's an Old Guard Shield match! The beloved going two for two in their opening matches, both on the road, would be massive.
Richmonds stinks, the beloved just need to go out and prove that they aren't the 'same old Hounds.'
#UNLEASH