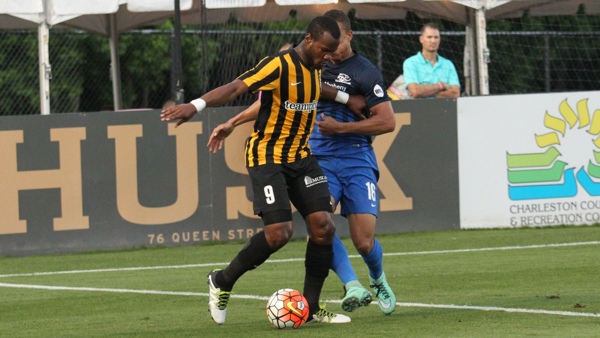 The Riverhounds travel down south for their first road encounter of the year and you could say they are already facing a situation in which a loss must be avoided at all costs. Therein lays the peril when you begin you first two games at home and only manage one point from six and all too familiar felling begins to sink in with supporters.  Though, I will try not to get too negative, they were plenty of positives to take away from the first two games and hopefully the boys will build on that when they visit Charleston on Saturday.
What doesn't bode well for the Hounds is that have not beat Charleston since 2011 and are currently on a stretch of 0-7-4 in those matches. Though, a 1-1 draw with Charleston last year down south is bit hope for a positive result.  Really, I am hoping for a point from this match and a win on Wednesday to steer the ship of the 2017 season.
Anyway, on to the Battery who have started the season strong with wins over Cincinnati and Charlotte, winning 2-1 and 2-0, respectively. Charleston's strength again is a strong back line and taking advantage of set pieces.  3 of the teams 4 goals so far have come from dead ball situations and two of them have come of the head of 6'5 defender Forest Lasso.  The Hounds must be on their toes for free kicks, especially with Lasso and the great service he gets from Justin Portillo and Taylor Mueller.  A troubling note is that the Battery scored three set piece goals against Pittsburgh in 2016.
http://www.charlestonbattery.com/highlights
This will also be the Hounds first attempt to gain points in the Old Guard Shield competition, with this being the first match in the trophy's history
Its going to be tough on Saturday night but hopefully the boys will be all business on the road and we can take home a positive result to build some momentum for St. Louis on Wednesday night.
#UNLEASH
JK