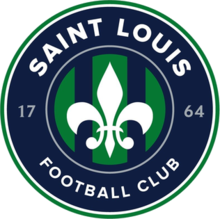 The Hounds look to build on some momentum earned from the road win in Charleston when they host St. Louis FC tomorrow night at Highmark, looking to post a winning record for the first time in what feels like ages.
Saint Louis is looking good at 2-0-1 and are coming off back to back 3-2 home wins over NYRBII and Ottawa after drawing on the road in Louisville to open the season. Also, in doing some reading up on our opponents I discovered something that I probably should have known. Raise your hand if you knew Jose 'friggin Angulo was on St. Louis, I didn't and that's probably bad on my part, but oh well. If you newer to the Hounds and the Army, Angulo led the line for the Hounds during the 2013 and part of the 2014 season, winning the USL golden boot /USL MVP in 2013 alongside now MLS star Dom Dwyer, who played at the USL version of Orlando at the time.
Angulo scored in the 3-2 over New York and I believe he will receive a good and proper welcome home back to the Highmark. Leading St. Louis in goals is Christians Volesky with 3 goals in 3 games. Hounds fans will recognize Volesky from his time with Rochester, where he bagged 20 goals in his time there. Volesky was signed by MLS side Kansas City in the offseason, but was released and picked up by STL FC.
On to off the field issues where St. Louis was dealt a bit of a blow earlier this month when Prop 2, a bill that would have earmarked 50 million of public money for a soccer specific MLS Stadium was voted down by the public. The "no" vote does not guarantee that MLS will never expand in St. Louis, but is a gut punch to loads of supporters and fans who thought they were ever so close. Its another interesting development in the expansion development in MLS and how teams in the USL are trying to go about it. It may be just me, but I am perfectly fine with being in the USL and not sucking up to Don G. for expansion love, live footy is live footy, no matter the division.
See yinz tomorrow for a little happy hour at Highmark.
#UNLEASH