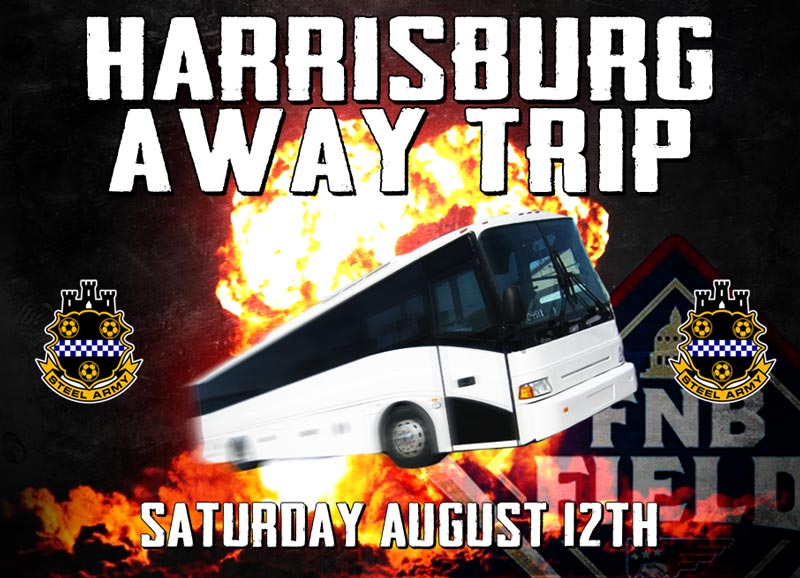 Army!
We're happy to announce the bus is booked and we're ready to start taking sign ups for our annual trip to Harrisburg. Join us on Saturday August 12th as we take 50 of you across the state for an always memorable night. There's a lot to play for this year. Not only are the Hounds doing decent and are in the playoff hunt, but the Keystone Cup will still be up for grabs. Not to mention the new Old Guard Shield both teams are competing in. It's going to be a hell of a night! Tickets for this trip are $40, and if we're the smooth talkers we think we are, will include your ticket to the game. It's BYOB, we just ask that you check yourself before you wreck yourself. Anyone puking on the bus gets left at a rest stop. Tickets can be purchased through our online store, and sign ups will be open until the bus is full. See below for the schedule of events. If you have any questions drop us a line.
BIG NOTE: We will be dropped off and picked up from a bar in Harrisburg. Probably McGrath's as has become the tradition. This means if you are under 21 you will only have access to the downstairs dining area before the game, and will NOT be able to get in at all after the game. Sorry but them's the breaks. If you're under 21 and still wish to come you MUST be with a parent or guardian that you can hang out with elsewhere from the bar.
Schedule
11:00 AM – Promptly depart from Highmark Stadium
~ 3:00 PM – Arrive at Harrisburg
6:00 PM – Head to FNB Field.
7:00 PM – Kickoff
9:00 PM – Celebrate a victory
10:30 PM – Depart Harrisburg
~ 2:30 AM – Arrive at Highmark Stadium
PS- It's usually a loud bus both to Harrisburg and on the way home. No party poopers!
#UNLEASH