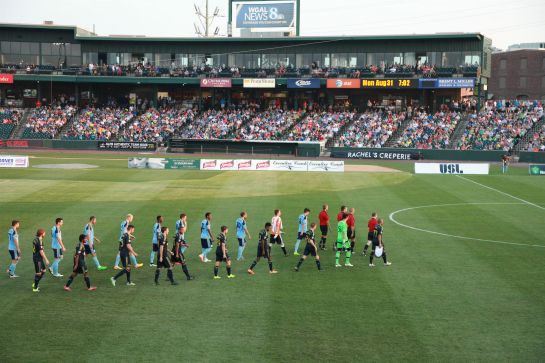 The Hounds have a quick chance to turn around and rebuild momentum and look to get back to winning ways when they travel to Harrisburg Wednesday night to play the City Islanders. Pittsburgh lost to Louisville Saturday night in a disappointing night at Highmark, where they boys just could not convert on their chances.
Harrisburg is 0-1-2 since being defeated at Highmark Stadium 1-0 late last month, losing to New York and drawing with Charleston and Richmond. Harrisburg sit 12th in the East currently and have not won in 5, important for the Hounds to not let them gain any confidence early. A win for Pittsburgh in this game would already clinch the Keystone Derby Cup only a third of the way through the season, something that has been settled on the last day of the season in the trophy's first two seasons.
Aaron Wheeler leads the Islanders with two goals while 4 other players have a goal a piece, Wheeler looked threatening at the game at Highmark so look for him to be the main threat for Harrisburg. Also look to longtime Islander Jonathan Mendoza to also threaten for Harrisburg, he has had success against Pittsburgh in the past.
Last time out Harrisburg drew with Charleston, but you could say it felt like a win with the Islanders equalizing in stoppage time with a goal from Mendoza.
#UNLEASH