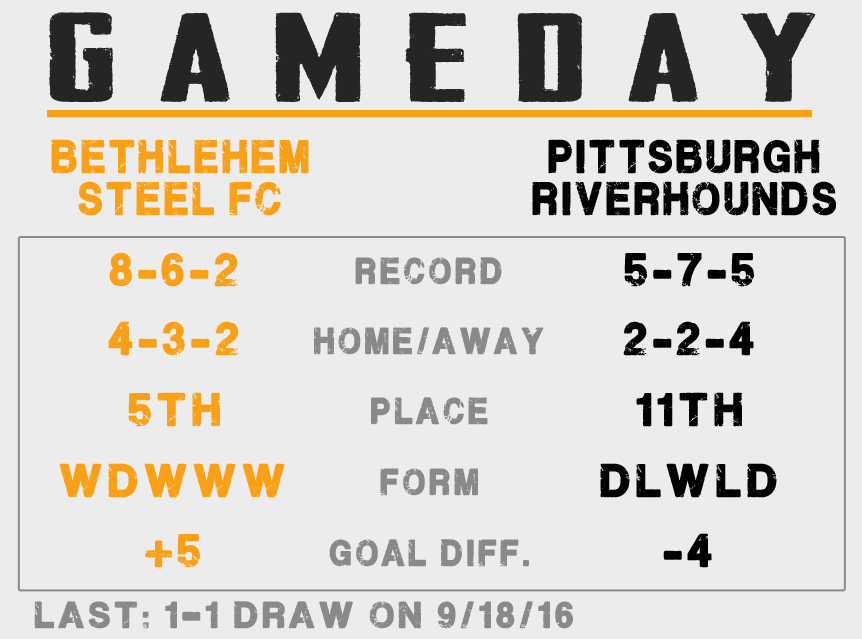 5 PM – Goodman Stadium
Whatch Live Via Youtube

Match Officials, as assigned by PRO

REF: Mr. Lorant Varga
AR1: Mr. Mark Treilman
AR2: Mr. Bernard Shumbusho
4TH: Mr. Matthew Schultheis

Morning Line Odds via BET365
BST -138
Draw +250
PIT +300

The Hounds travel to that other Pennsylvania team for an early kick off this evening. Bethlehem have been on a tear lately, going undefeated in their last 7. Meanwhile the Hounds have only one win in that same time frame with an equal number of losses and draws. Bethlehem's fortunes lately could be argued to be a due to the schedule as opposed to their talent. All of their recent matches have been against teams lower than them in the standings (as of today), with 4 of them against teams in the bottom 4. They do struggle a bit against good teams, though it remains to be seen if the Hounds fall under that category.
The Philadelphia Union have a friendly today against Swansea City. We'll see if that pulls people away from Bethlehem or if they send a bunch of MLS-ers down to keep fit. At any rate for whatever reason this season the Hounds are better on the road than at home. They've come away with points against 2 teams stuffed with MLS players, and I don't see why they couldn't today. Expect another low scoring match, if any scoring at all. Let's keep this road stretch positive boys.
#UNLEASH