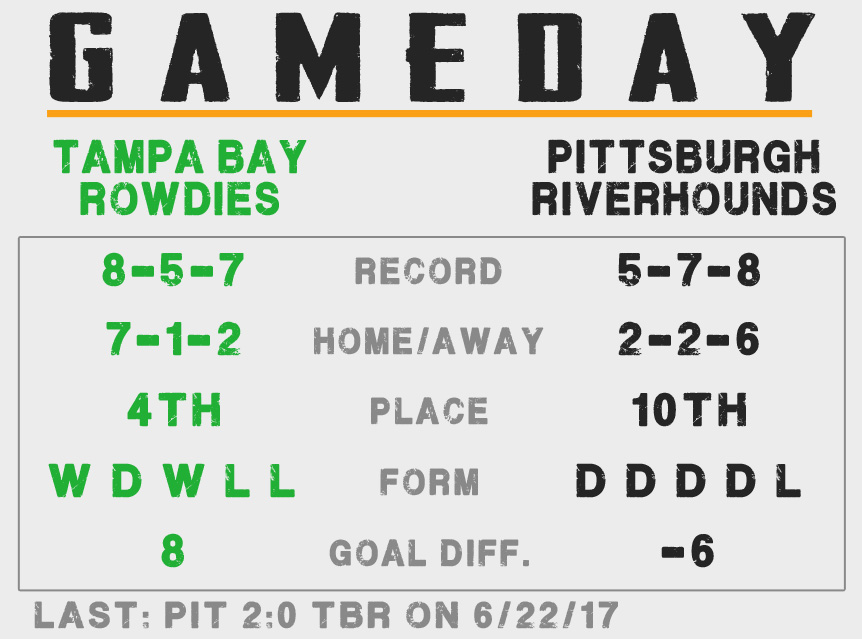 7:30 PM – Al Lang Stadium
Those in the Pittsburgh area may also watch on Pittsburgh CW (Comcast channel 808 or Verizon Fios channel 503)
Officlal Watch Party is at Claddagh
Match Officials, as assigned by PRO: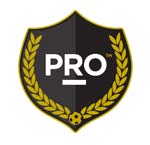 REF: Mr. Rosendo Mendoza
AR1: Mr. Matthew Osterhouse
AR2: Mr. Francesco Terranova
4TH: Ms. Janessa Gunn
Morning Line Odds via BET365:
TBR -150
DRAW +250
PIT +333
Officially, the Hounds are on a four match unbeaten streak. They are also, officially, on a five match winless streak. Unofficially, the run feels something like this; good draw at Orlando, unacceptable draw at a half amateur LeHigh Valley, solid professional road point against a stingy Rochester, and a heartbreaking two points lost at home against table topping Charleston. What is four points in four matches, could have easily been seven or eight points in the same span. Instead of still sitting a point out of the playoffs, we could be talking about being possibly above the line by a point or two. none the less, they Hounds sit where they sit, and as a result go into Tampa Bay on short rest against a side that has gotten their legs back underneath them since losing to these Hounds late last month. A fifth straight draw would probably be gladly taken by a fair number of the supporters tonight, to take all three points back on plane to Pittsburgh would be a huge lift as Pittsburgh prepares to start a string of games against the bottom half of the table.
For Pittsburgh, the roster is starting to get healthy, meaning Dave Brandt will have a number of options available to pencil onto the roster. For a team that is in constant tinkering mode, having more bodies out of the treatment room should only add to the unpredictability of the starting XI and total 18. Beyond that, the pair of goals from Wednesday should have given a much needed confidence boost to a side that was struggling to find the net. Can Corey Hertzog build upon his beauty of a strike as he makes his first return to Al Lang Stadium, where he plied his trade for two seasons before joining the Hounds? Will Trey Mitchell start in net, putting the Hounds back in full keeper rotation mode, like Bradt did when he took charge of the Hounds last season? Will the boys put on a respectable performance for the local tv broadcast audience? The first game on the CW was three-nil embarrassment in Louisville. Putting on a good showing for the channel surfers wouldn't be the worst thing for team awareness.
The Rowdies appear to be locking in at the right time. They are on their best run of form and are exceedingly dangerous at home. They've scored at least once in each home match, with multiple goals being the norm in the past couple of months. Can the good guys limit the quality scoring chances? If so, the coveted road point in Tampa wouldn't be as elusive as it may seem.
We're also inching towards the time of the season where we need to scoreboard watch. The teams within three points of the Hounds and the matches they have this weekend are:
New Jersey Sugar Free Red Bulls (one points up on Pittsburgh) visiting third place Louisville
Harrisburg "Poopy" Islanders (even with Pittsburgh) is off this weekend
Orlando City B (one point behind Pittsburgh) is at first place Charleston
Ottawa (two points behind Pittsburgh) is at last place Toronto
Again, with most of the teams around us also on the road against top four opponents, the road point wouldn't be bad, but taking all three would be huge.
We hope to see many of yinz out at Claddagh for the viewing party. Even if you can't make it there, get out to your local watering hole and insist on getting the game on at the bar, exposing as many other people to the Hounds as possible. Its your Army duty.
#UNLEASH