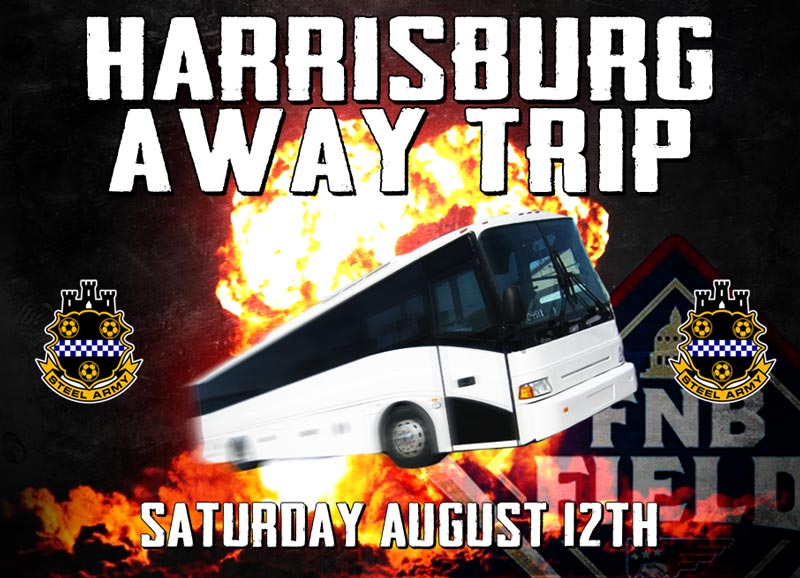 I don't really want to talk about Saturday's (sort of depressing when you really think about it) draw, so instead let's talk about something much more fun. The Harrisburg Away trip! We're officially under a month to go and still plenty of seats available. Despite the Hounds record or their form of place, we always have a ton of fun on the Harrisburg trip. Just ask anyone who's been on the bus in the past. This year not only are the usual league standings at stake, but there's not one but two cups to play for. They Keystone Cup is still up for grabs with this winner take's all match. It's also the inaugural season of the Old Guard Shield, which we just so happen to be leading. There's a lot of pride on the line which means we need to bring our A game.
Come one, come all! Bring a friend. Not in the Army but want to get a seat? Sign up today! All are welcome (though please read the BIG NOTE first). Tickets can be purchased on our online store or in person at any tailgate. If you have any questions drop us a line.
BIG NOTE: We will be dropped off and picked up from a bar in Harrisburg. Probably McGrath's as has become the tradition. This means if you are under 21 you will only have access to the downstairs dining area before the game, and will NOT be able to get in at all after the game. Sorry but them's the breaks. If you're under 21 and still wish to come you MUST be with a parent or guardian that you can hang out with elsewhere from the bar.
Schedule
11:00 AM – Promptly depart from Highmark Stadium
~ 3:00 PM – Arrive at Harrisburg
6:00 PM – Head to FNB Field.
7:00 PM – Kickoff
9:00 PM – Celebrate a victory
10:30 PM – Depart Harrisburg
~ 2:30 AM – Arrive at Highmark Stadium
PS- It's usually a loud bus both to Harrisburg and on the way home. No party poopers!
#UNLEASH