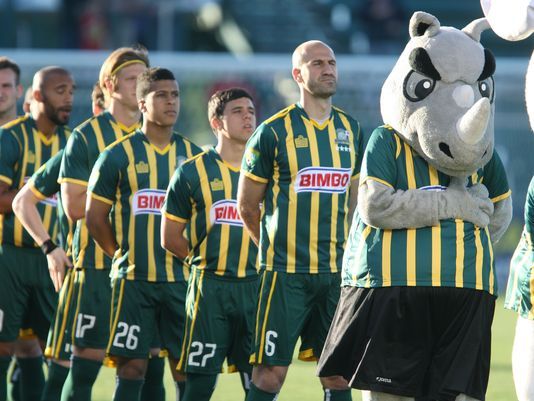 The Hounds travel to upstate New York on Saturday to face off with the Rhinos for the first time on 2017, a little late in the year to be facing their longtime USL rivals.
The Rhinos are 1-2-2 in their last five games and are 7th in the Eastern Conference with 25 points, 4 ahead of the Hounds with playing two less games.
Rochester's season has been highlighted by victories over Tampa Bay and Cincinnati with a 4-0 thrashing of Charlotte thrown in there. The campaign has been up and down, similar to the Hounds.  The only win for the Rhinos in that time was a 1-0 victory over Harrisburg at home.
Jochen Graf is the teams co-leading scorer with 4 goals, Graf returned to the US in 2017 after spending time playing in the lower divisions in Germany and Sweden.
Also with four goals is Way Fall, which sounds more like something I would do after an away day in Rochester than a name.  Fall is the cousin of Jermaine Jones which is a nice little fun fact for you.  Like Graf, Fall spent time in the lower leagues of Germany, not sure what the Rhinos are going for with that, but I guess it has been somewhat successful.
This is also an Old Guard Shield match, which to the surprise of myself and maybe others, the Hounds currently sit at the top of the table with six points.
The two teams played in preseason, a 5-1 loss for the Hounds, lets hope Saturday goes a bit better.
#UNLEASH