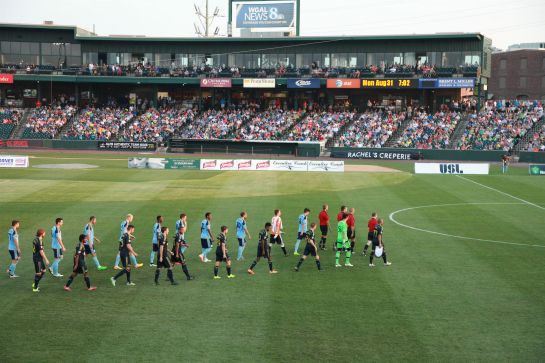 The Hounds and a busfull of supporters will be traveling to Harrisburg this Saturday hoping to reclaim the Keystone Cup for the second time in the trophy's three year history.  The two teams come in to the match on almost identical runs of form, neither team winning in their last five games.  The teams are also pretty much deadlocked in the standings at 24 points each with Harrisburg in 11th with the Hounds sitting in 12th, but both teams are not far out of the playoffs. 
If you think the Hounds have trouble scoring than you would really hate to be supporting Harrisburg, who have not scored in their last four games, three losses and a scoreless draw.
For a team struggling to score goals it is no surprise that the leading scorer only has three goals, Paul Wilson being that.  Wilson is on his second year with Harrisburg and is one of the many young Jamaican strikers in the USL, he has featured for the Jamaican U23's.
Hopefully the goal scoring drought continues and the Hounds can put one in early to make the home crowd uneasy.  See everyone on the bus tomorrow who is going, plenty of morning road pops to be had.
#UNLEASH