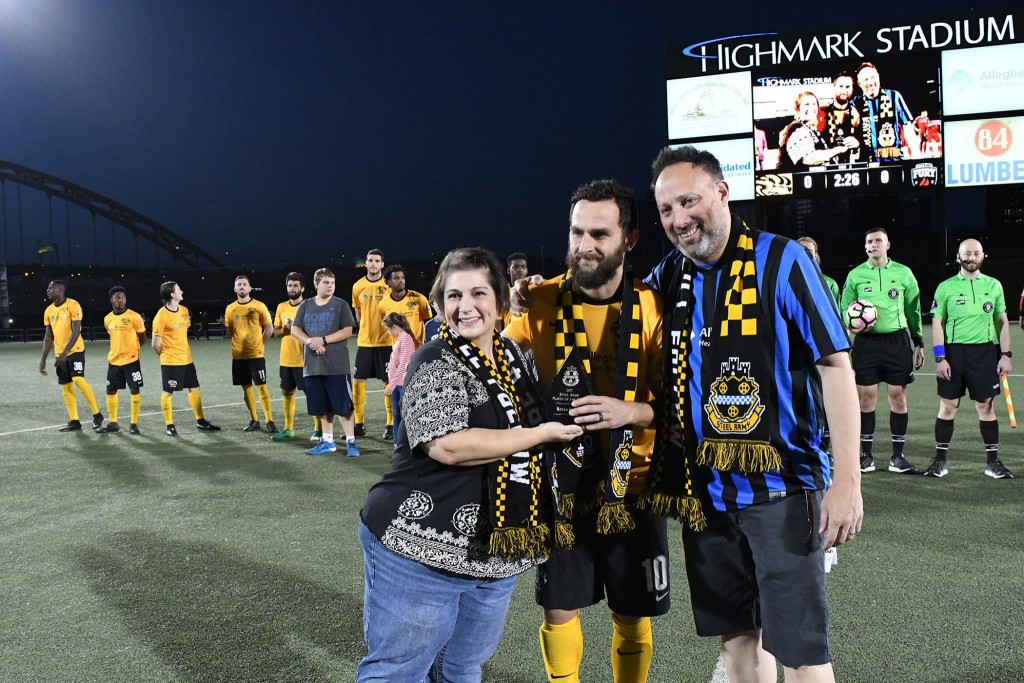 With the season over and the final whistle sounded, it's time to announce the results of our Player of the Year polls.
Steel Army Player of the Year – Kevin Kerr
If you were are the match on Saturday you already know this one. If you weren't it should come as no surprise that team captain Kevin Kerr took home the trophy this year. Despite Kerr being a long time Riverhound this is the first time he's been our Player of the Year. This season he was the anchor in the midfield with never ending grit and determination. Oh Captain my Captain! Congratulations to Kevin Kerr.
In addition to our overall Player of the Year we have individual position winners as well. We'd like to recognize the following players as our favorites in each area of the field.
Goalkeeper of the Year – Trey Mitchell
As our primary keeper Trey was a power house in net before his season ending injury. He posted 6 clean sheets in 17 appearances, and averaged less than 1 goal a game. Despite only playing half a season, Trey left a lasting impression on the Steel Army, and we hope to see him make a full recovery for next season.
Runner Up: Keasel Broome
Defender of the Year – Jamal Jack
One of the few constants on the back line, Jack played hard with a bit of a bruising style that we always love to see in a defender. He's a big guy who didn't take any guff from opposing strikers, and wasn't afraid to get in there and potentially take a whack. We salute this year's iron man.

Runner Up: Taylor Washington
Midfielder of the Year – Kevin Kerr
As is often the case our overall Player of the Year also takes his individual category. It's Kevin Kerr. What more can we say?

Runner Up: Victor Souto
Forward of the Year – Corey Hertzog
The Riverhounds leading scorer by a mile, Corey Hertzog continued his form from last year as the key piece of the Riverhounds attack. A fan favorite of not just the supporters, but in the Academy as well, Hertzog played with passion and grit all season, and gave us some memorable goals. Hats off to our number one striker.
Runner Up: Chevaughn Walsh
—
Once again congratulations to Kevin Kerr and to the winners of the individual categories. Enjoy some time off boys, you deserve it.

#UNLEASH