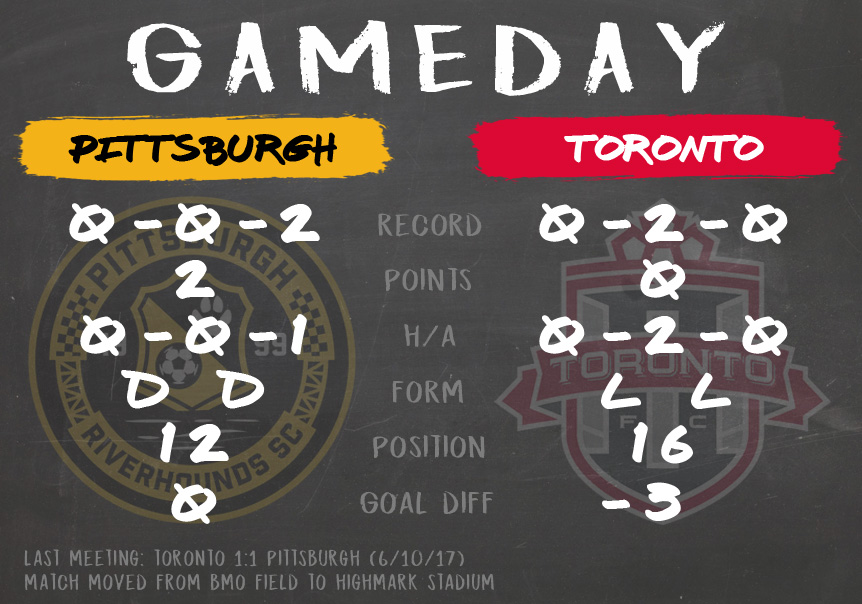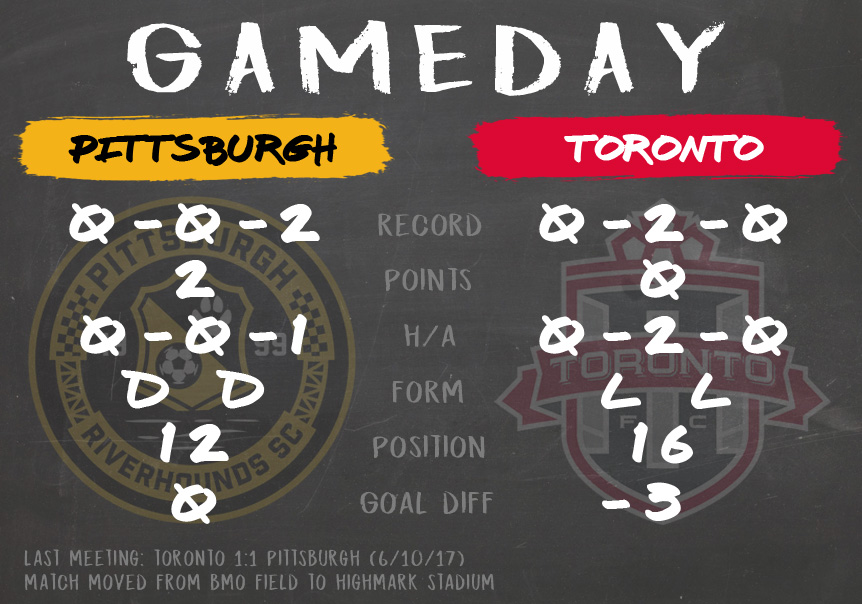 BMO Field – 2PM 
Highmark Stadium – 3PM
Tickets: $5 (U.S. currency) at the door gets you in. Another $10 gets you in amongst the more posh of supporters
Watch: The YouTubes
On the 'watching' note, the days of live on the The YouTubes is at an end. Live streaming of matches will now be on ESPN+ for $5 a month. Anyone who though the league was dumping money into broadcast quality so they could keep giving it away for free were sadly mistaken. This does not change the agreement with Pittsburgh CW. Those matches scheduled for local television will still be there.

PIT +100
Draw +260
TOR +200
So… we're at home today, which, is nice.
The Hounds are coming off of two consecutive scoreless draws to open the 2018 campaign, but you shouldn't bet on that streak extending to three matches. The Hounds have always put, at least, one goal in against TFCII and it would be hard to imagine today being much different. Between the venue change and the quality of the sides, we're seeing a home goal today.
The Hounds will be without the services of Romeo Parkes and Joe Greenspan, both of whom will be sitting with injuries. Who comes in to replace the two starters could be interesting.  With Parkes, it would seem like Neco Brett is the natural choice, but anything is possible with Lilleyball. Defensively with Greenspan, the back line loses much of its size, which would make it tempting to see Hugh Roberts step into the Greenspan role to keep some height in the box on corners and set pieces, a place where TFCII should be looking to take advantage.
TFCII had their match last week postponed, presumably for the same reasons as today's change, less-than-idea home pitch conditions (and because TFC probably doesn't want BMO Field ripped up even more for a USL match) but did get in a closed door exhibition with Ottawa, this week, which was won by the Reds, 2-nil. Ryan Telfer scored both of the goals in that friendly, so, the Hounds should probably make sure he's marked at all times. Outside of that, who knows what to really expect. The MLS side doesn't play this weekend, so there is always the possibility of a couple of those guys showing up on this USL roster this afternoon.
The pre-game plans for today are a little (read: a lot) different. We are meeting up at Buckhead Saloon when they open at noon. We'll then migrate the the stadium pub when the doors open at 2pm. It's cold out and we're choosing to be sensible about it, for once.
Cheap tickets and what will be a fun atmosphere with a small crowd (Open Cup-esque!) always make for some fun memories. Get down there!
UNLEASH!