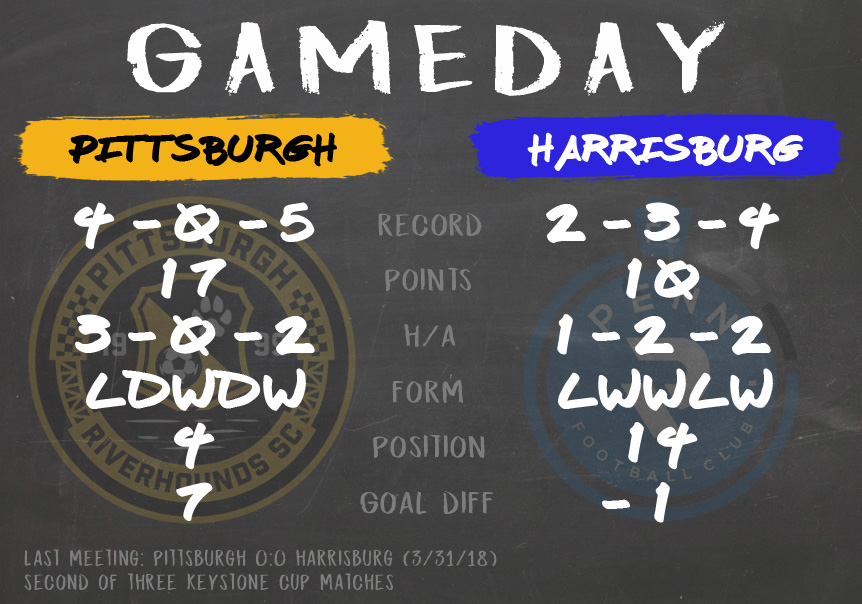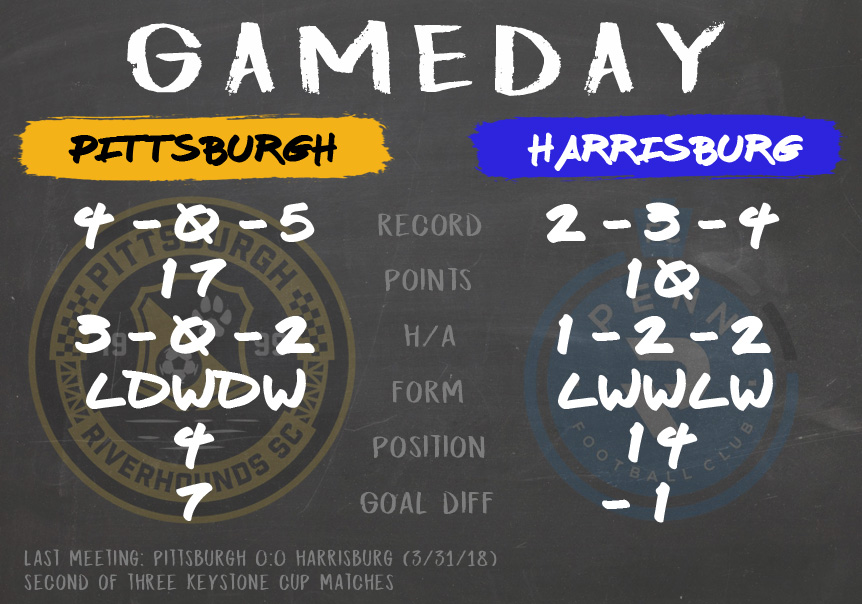 Highmark Stadium – 7PM

REF: Mr. Ismir Pekmic
AR1: Mr. Jeffrey Swartzel
AR2: Mr. Gregory Irwin
4TH: Ms. Taylor Bombalski

PIT – 138
DRAW +250
HAR +300


Reminder: The boys on donning the new black kits tonight. We're all in black. Don't be that guy who say's they didn't hear. Show up in color and get jeered. Simple as that
There shouldn't be anything needed to be written to help get anyone excited for tonight. It's Harrisburg. Its the Keystone Cup and the Old Guard Shield. Tonight, the Hounds need to simply dominate Harrisburg over 90 minutes AND let the scoreline accurately reflect that. Tonight, we ride.
The Hounds are coming off their first defeat of the season, an unsettling 3-1 flop to Cincinnati. The match featured a surprisingly large amount of squad rotation, and maybe it was too much to ask given the amount of injuries the team has picked up. In what might be a response to those issues the team has acquired Columbus' Connor Maloney for a game-by-game loan. The fullback was with Pittsburgh last year, making two appearances, while dealing with his own injury woes. It'll be interesting to see if Maloney is used straight away and , if so, how. Also, was this move made independent of other injuries or in response to injuries?
Despite all that, Harrisburg sucks. No need to over analyze it. Their two wins are against league-wide punching bag Toronto II and the home win over Tampa, who themselves can't do anything but punch themselves in their genitalia when playing on the road. This shouldn't be a match. As long as they don't let Tommy Heinemann get open, then they've cut down on all of Harrisburg's offense.  The Hounds need to wash Wednesday night off by going out and sweeping the leg on Harrisburg. No mercy.
This is the second of three Keystone Cup matches for the season. The first was that home opener scoreless draw against Harrisburg, meaning there is everything to play for tonight and the final match, at a baseball field on City Island on September 26 (which is a Wednesday, because they don't want us showing up).
The other competition ongoing tonight is the Old Guard Shield. The only other two shield matches contested so far were both legs of Harrisburg and Charleston. So, after tonight, Harrisburg will have played their Shield matches while Richmond haven't played any of them. However, these matches come nearly every week starting tonight, so that table will start to take some shape.
Speaking of tables, after tonight, it'll be 10 matches in for the Hounds. We'll be able to take a peek and see how the Hounds are doing.
We're burying Harrisburg tonight. It'll be a funeral. Be sure to wear black.
Strike First. Strike Hard. No. Mercy.
UNLEASH!