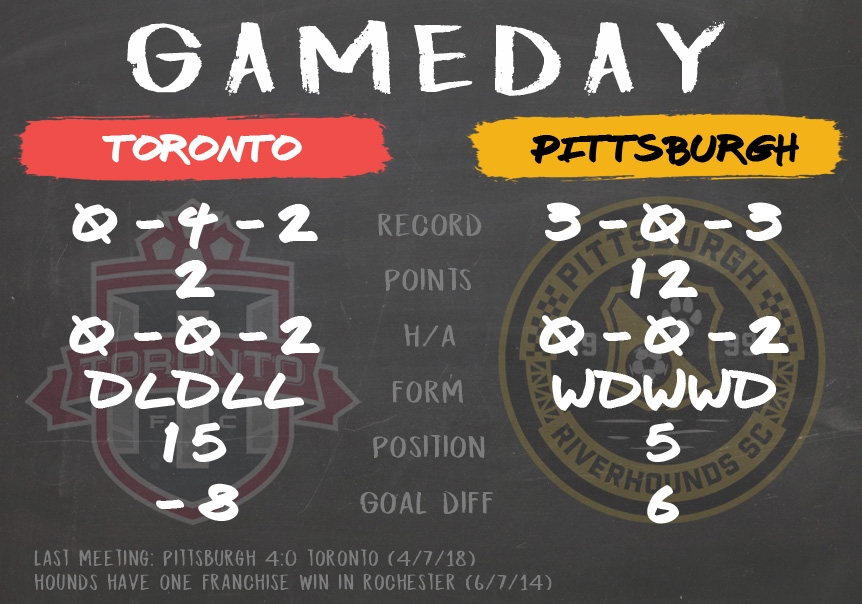 \
6PM – Marina Auto Stadium
Watch Live: Locally – Pittsburgh CW, Elsewhere – ESPN+

REF: Mr. Elvis Osmanovic
AR1: Mr. Democratis Pashalidis
AR2: Mr. B J Dunham
4TH: Mr. David Johnson

Via BET365
TOR +225
DRAW +200
PIT +120
The Hounds look to keep their best start to a season going as they head… to Rochester… to face Toronto… in what is considered a road game… because USL. Any locals who turn out will most likely want to see Bob Lilley and a handful for former Rhinos come out on top, making this an at worst neutral site match.
The thing about the 2018 version of the Hounds is that the production is coming from all around. Lilley said he wanted to get away from the 'one or two star player' systems, and thus far that has happened in spades. You want to start listing everyone who has had big moments, either on offense or defense, but you'd end up listing nearly everyone. This is just so refreshing to watch happen.
For Toronto, the Baby Reds are coming off a home scoreless draw with the Sugar Free Red Bulls, their second meeting already against the New Jersey side. Toronto has only found the new twice this season, and the advance stats would suggest it isn't a matter of poor luck, but rather of a young and inexperienced side playing slightly beyond their level. However, a side concern for the Hounds is that Toronto's MLS side played last night at home, which could make some of their depth guys available for selection for today's USL match. Hopefully not..
No watch parties tonight. However, you should absolutely visit your favorite local watering hole and ask them to flip on the CW. Maybe you'll get some new eyeballs on the screen for the first half before the Pens game starts.
UNLEASH