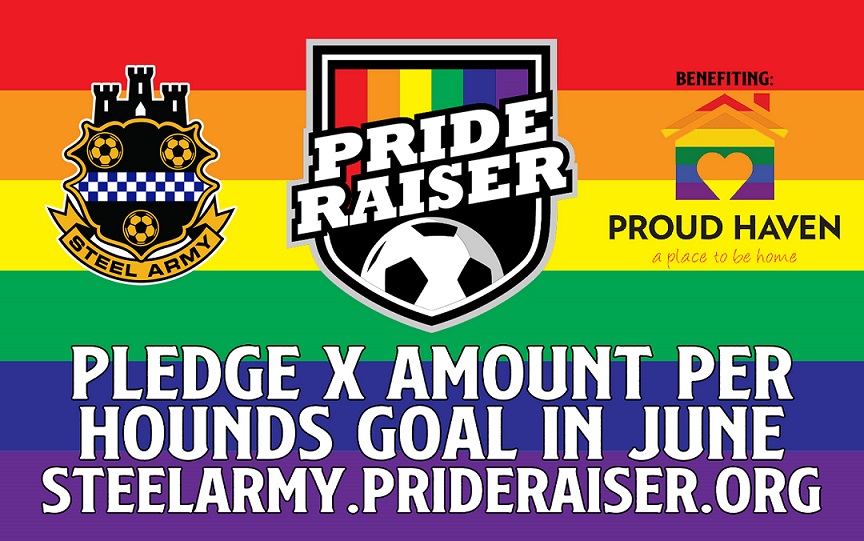 Hey Steel Army!
This year for Pride month, we wanted to try something new! We have teamed up with Prideraiser, a website started by members of supporter groups to create campaigns to benefit an LGBTQ organization within your community.
We are working with Proud Haven. Proud Haven provides a safe shelter for LGBTQIA+ youth experiencing homelessness or housing instability in the Pittsburgh region. Beyond this, they also provide emotional support and access to resources that can help improve quality of life and skills to help live independently. They have an important role in the Pittsburgh LGBTQIA+ community and we are proud to support them through this campaign. Learn more about Proud Haven here: https://www.proudhaven.org/
How does Prideraiser work? Simple! You pledge an amount of money to be donated per goal scored by the Riverhounds during the month of June. This will include all 5 USL Championship games and any Open Cup games that may occur (up to 2). For example, if you were to pledge $5 and the Riverhounds score 10 goals in those games, your final donation would be $50. The default pledge is set to $5, but you can make it whatever you want! You can also change it up until the end of the month. We appreciate any donations! At the end of the month, Prideraiser will reach out to everyone with their final donation and how to proceed with payment.
As a little bonus, anyone who makes a pledge will be entered to win a Prideraiser scarf, with the winner being drawn randomly at the end of the campaign!
Prideraiser game schedule:
• 6/1 – @ Indy Eleven
• 6/8 – vs. Ottawa Fury FC
• 6/12 – USOC Round 3 (if Hounds advance)
• 6/15 – @ Atlanta United 2
• 6/19 – USOC Round 4 (if Hounds advance)
• 6/22 – vs. New York Red Bulls II
• 6/29 – vs. Birmingham Legion FC
Make your pledge here: http://steelarmy.prideraiser.org
Thank you!
#UNLEASH