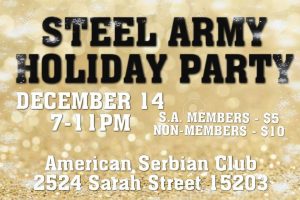 The Hounds season may be over but that doesn't mean we're sitting idle until March. Join us on December 14th for our annual holiday party at the American Serbian Club in the South Side. If you haven't been before it's a fun, casual evening where you get to hang out with your Steel Army friends in a setting other than a parking lot.
Food will be provided and a cash bar available for anyone who wishes to partake. There is a $5 cover for Steel Army members, $10 for non-members to help cover the cost. Kids under 18 get in free.
We'll also be starting signups for our 2020 memberships for the usual $25. As always, membership scarves and gifts won't be available until our AGM in February. We'll also have what's left of our merch inventory from this year in case you want to pick up any last minute holiday gifts.
Finally, as always we have a Facebook event setup. If you're on Facebook and are planning to come we'd appreciate it if you RSVP'd so we can get a rough headcount.
#UNLEASH