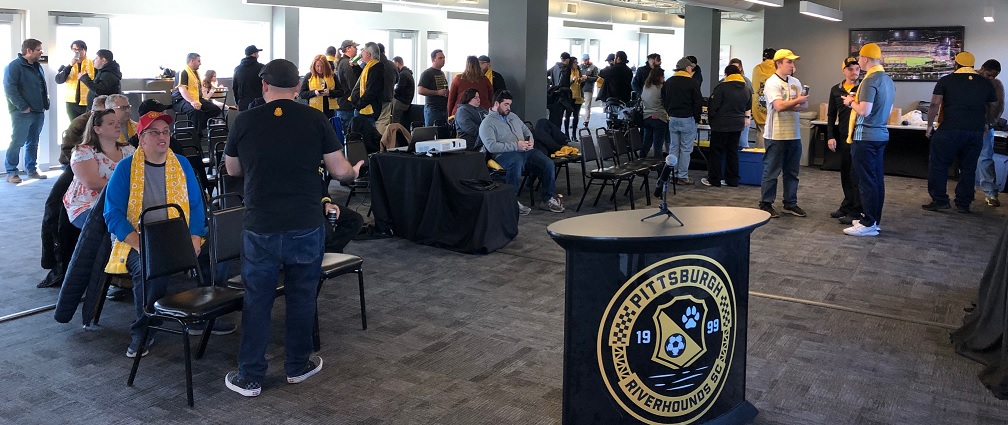 Over the weekend we held our yearly Annual General Meeting at Highmark Stadium. It was great to see everyone again and catch some preseason action on a beautiful Saturday afternoon. For those of you who weren't able to make the AGM here's a recap of a few of the bigger items on the agenda.
Board Changes
After over five years at the helm, Maria has stepped down as President of the Steel Army. She's seen the Army through a lot of growth over the years, and after putting a lot of blood, sweat, and tears into the group she's looking forward to kicking back and relaxing at the games. Don't worry her famous jello shots aren't going anywhere.
Vice-President Josh will be stepping up into the President role. The Board has nominated Director-at-Large Kyle to the Vice-President position. Additionally Aaron will be stepping down as Treasurer but will remain on the Board. Logan has been nominated to take over as Treasurer.
Finally, after a close race we'd like to congratulate Don and Steve for being elected as the 2020's Member Representatives.
By-law Updates
Two by-law changes were voted on and approved by a 2/3 majority. In summary, they are-
Steel Army members must be 21 and over to server on the Board of Directors
Should a Board of Directors position become vacant during the year, outside of the President, the position will remain vacant until the next AGM.
Committees
Thanks to the growth of the Steel Army and the influx of members who want to get involved (as seen by our record number of members up for vote to be a Member Representative this year), we're happy to announce we're rolling out a committee system. These committees will be a way for our membership to get directly involved and help plan and execute certain aspects of what we do. The committees will be-
Tailgate – This committee will take care of gathering any tailgate supplies and planning and organizing tailgate activities. There is also the setup and clean-up to this committee as well.
Gameday – This committee will be responsible for the setup and clean-up of the supporter's section on gamedays. This includes putting up banners, flags and drums as well as helping to put everything back after the game and keeping the storage container tidy.
Tifo  – This committee will handle all things tifo. You will help to trace the design, paint it and then help execute putting it up on gameday. You may also help with designs!
Community Outreach – This committee will look to get the Steel Army more active in our local community. Pittsburgh has plenty of outreach opportunities and this communittee will help to get the Army more involved. The Prideraiser campaign is an example of this.
We're not putting a cap on how many people can be on the committees, but you do have to be an active Steel Army member to be on one. If you're interested in getting involved with one of the above drop us a line and we'll get you connected with the other members.
Design Contests
Our shirt of the month experiment last season was a great success, and so to expand upon it we're dedicating one month this year to the membership to design a shirt. Our July shirt of the month will be designed and voted on by yinz, and I'm sure it's going to be amazing. More details later this spring.
Beside shirts, we find ourselves sold out of our secondary scarf. We figure this would be a great time to revive a scarf design contest like we did several years ago. There's also been a lot of requests for a summer scarf, so this feels like a good opportunity to do one of those as well. We'll have the contest sometime around April so that it can be produced and ready to go by the summer. More details later.
Membership Packages
We've started to hand out of 2020 scarf at the AGM for those who signed up. Please note that membership packages will include a pin this year, however due to a production issue they are going to be late. If you've already picked up your membership package or are planning on picking one up, you can stop by our tailgate at a later date to get your pin once they are in. If you ordered a membership package to ship, we will be delaying getting those out for another couple weeks until we get the pins. We apologize for the sorry for the delay, but we think the pins will be worth it.
Away Trip
The bus is back! Thanks to an OK schedule for once we have a Saturday away game against a close team. Join us on Saturday June 20th as we head down to Loudoun. We know a 2 team isn't the greatest, but we'll take what we can get at this point. The bus will be $35 for Steel Army members and $45 for non-members. You can sign up now via the online store or in person at any tailgate. We'll have more details regarding a schedule the closer we get to the game.
HOV Fund
The Steel Army HOV fund is back for another year. This is our reimbursement program for anyone looking to take a road trip to an away game. Steel Army members, check out the Speakeasy section of the site for more details.
---
We covered quite a lot at the AGM. Feel free to reach out to a board member if you have any questions. The USL Championship season kicks off next weekend, and only two weeks until the Hounds first take the field. Get on the hype train, it's about to leave the station!
#UNLEASH