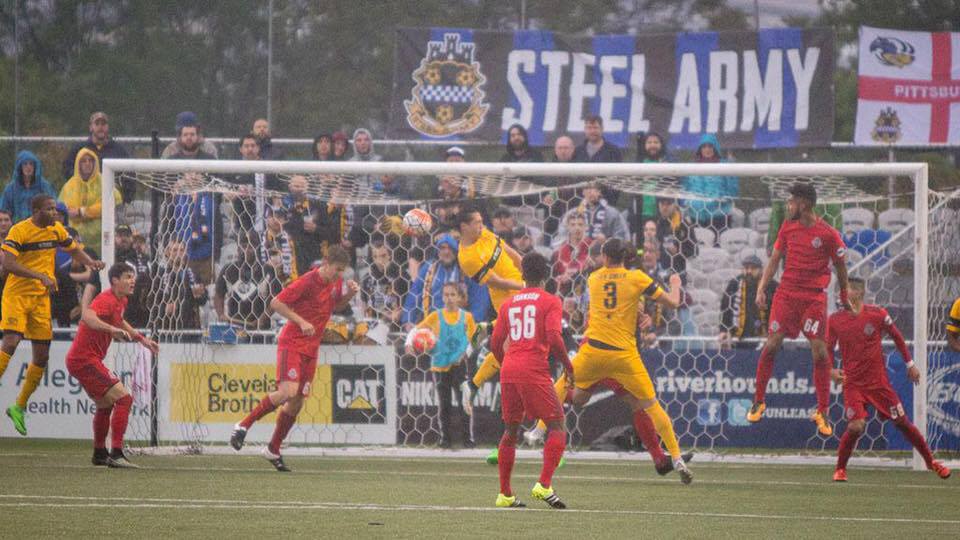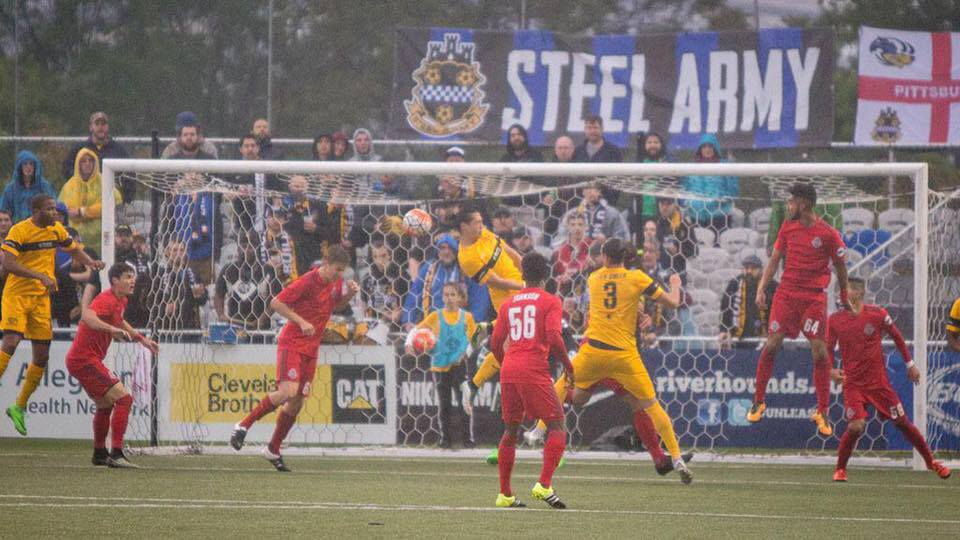 What a whirlwind couple of days huh? In less than twenty-four hours the Hounds won their first game of the season, parted ways with coach Steffens, and announced coach Brandt as his successor. I spent a good chunk of Sunday just processing it all. This is going to be a long one, there's a lot to talk about. With the coaching change the win over Toronto FC II got kind of lost, so let's talk about that first.
We've finally won a game! Boy does that feel good. Sure makes the rainy weather bearable. It was another exciting match between these two teams. The Hounds came out a little slow to start. While Toronto didn't have many opportunities they did dominate possession early on. After a while the Hounds found their legs and really turned up the pressure. The started to control the ball in the midfield and had some nice build up going. That said by the end of the first half it was starting to look like another frustrating game. While they didn't look bad per say, the Hounds attack fizzled out in the final third again. Very few dangerous shots in the first half.
The second half is where the Hounds finally clicked. Two goals in under five minutes put the boys in a nice 2-0 lead. In a stunning turn of events both of those goals were from set pieces. The first was a beautiful curler by Moloto from just outside the left corner of the 18 yard box. It wasn't a hard shot from distance like we saw from Vincent a lot last season, but it was pin point accurate to the back top corner of the net. That's the kind of set piece we like to see. On the second goal there was finally a man at the back post on a corner. The ball may not have gotten to him cleanly, but Hertzog was in the right place to send a deflection into the back of the net. There have been a lot of missed opportunities from nobody charging the back post on a corner. It's relieving to see it pay off when someone's there.
In his second league start Vargas once again stood out in goal. The rookie keeper made some clutch saves to keep the Hounds lead secure. Also standing out was another rookie Duwayne Ewart. This was the Canadian teenager's first match for the Hounds this season, and he put on quite the show. Ewart displayed a lot of energy and fancy footwork in the first half. He looked very confident in his first match. With luck his skill will draw away defenders and open up opportunities for other players. It's going to be very fun to watch him develop over the year.
It wasn't until after the match that we learned the Hounds were playing for something more than just a much needed win. At the post-game press conference it was announced coach Steffens would be relieved of duty effective immediately. Even though we've been unhappy with the team this season, and some Steel Army members even wanting him out, I don't think any of us was expecting a move to happen so soon. Though when you think about it that's Tuffy for you. He comes across as a laid back guy, but over the course of his presidency we've seen he can be quick and decisive when needed. Steffens came to town with a lot of experience and high hopes for the team. Last year he lead the squad in one of the more exciting seasons the Hounds have had, but they did just only squeak into the playoffs and found themselves quickly out of it once again. This season things have gone about as bad as you could imagine. Some timelines I've seen indicates the FC Cincinnati game was the beginning of the end, but the loss to an amateur side in the U.S. Open Cup sealed it. Steffens always seemed like a nice guy in person, but that doesn't get you far in a results oriented business. After having the keys to the car for a full offseason things just weren't working out, and so it's time for us to wish him happy trails and best of luck in future endeavors. The USL is still expanding like crazy. If Steffens chooses to continue coaching I'm sure another team, possibly an expansion side, would gladly take him. Steffens leaves the Riverhounds with a 12-11-13 record.
Pretty much as soon as Steffens was out his replacement was identified. On Sunday the Hounds announced famed NCAA coach Dave Brandt will be taking the helm from here on out. Brandt is probably most famous for his time at Messiah College where his program was six time NCAA Division III champions over a twelve year period. Brandt posted a 246-25-14 record while at Messiah. In the last seven years Brandt has been Navy's head coach, posting a little less impressive but still strong 64-47-20 record. Besides good records Brandt is also known for his recruiting skills. To be able to win like that you have to be able to find talented players. We probably won't see much of that this year with the current roster being mostly full, but this coming offseason should be very interesting. Time will tell though if he can translate his college recruiting abilities to the professional level. Dealing with contracts and actually having to pay players is going to be quite different than what he's used to.
Brandt has a big challenge on his plate for his first week on the job. Coming off an emotional win, the Hounds travel to New Jersey to take on the baby Bulls. Red Bulls II currently sit second in the eastern conference, and saying there's some bad recent history between the two clubs is an understatement. Brandt will have to keep the team's emotions in check and make sure the team doesn't slide back into bad results. Kick off this weekend is an astonishingly late 10:00 pm. Steel Army member Wonjoon is hosting a watch party in Oakland for anyone who wants to come out and watch some late night soccer. Food will be provided, but BYOB.
#UNLEASH