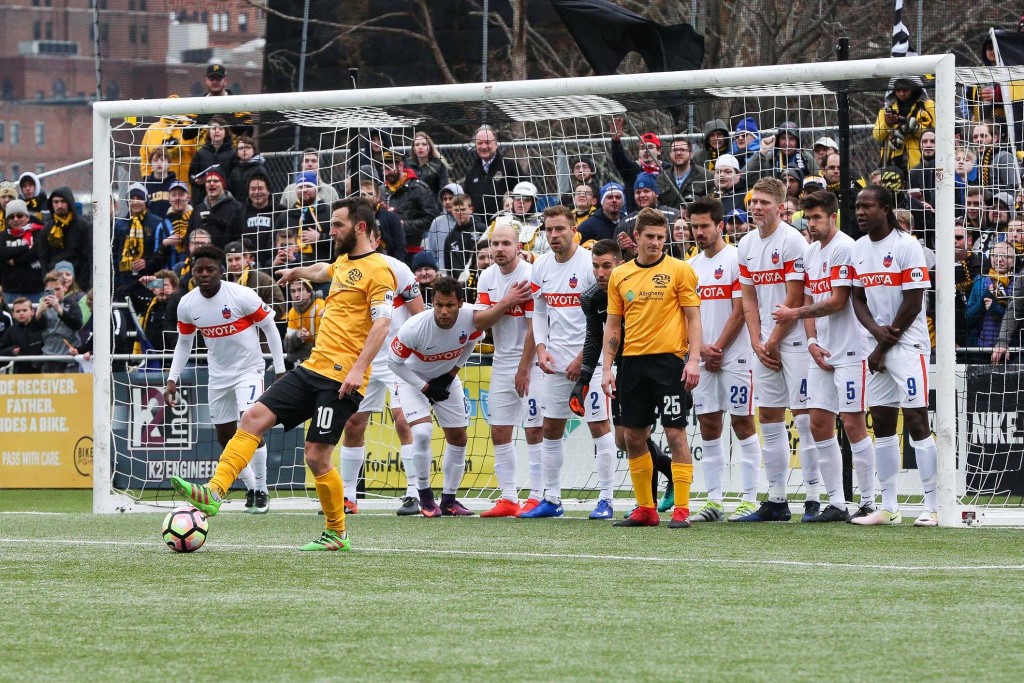 Just a week after a thrilling 3-3 draw and feeling pretty ok about the season, Cincinnati came to town to knock us down a peg with a 1-0 reality check. Probably the most frustrating aspect of that cold Saturday night is the Hounds continued to look pretty decent in the first half. They were controlling the ball well and pressing the attack. If you look at the heat maps on the USL's site Cincy spent a lot of the first half in their own end. Unfortunately even with the attack and several good chances (including the rare indirect free kick from the 6 yard box), the Hounds just couldn't do anything with it. I'm sure quite a few of us left Saturday with 2016 PTSD after seeing them struggle to score. Goals aside, it was always going to be tough for the Hounds to come out on top. Very few teams can survive 45+ minutes a man down. Agbossoumonde's first yellow was little iffy. I can't see anything egregious on the replay. It seemed like the ref showed a card more so because of the injury than the actual action. However at that point it doesn't matter. You have to play smart. His second foul wasn't playing smart. That kind of tackle almost always gets a card, and I don't think anyone has an issue with it. According to Matt Welch at DKPittsburghSports it sounds like Brandt was considering not playing Agbossoumonde on Saturday. His subsequent suspension will make that decision very easy for coach Brandt this weekend.
The positive first half still gives me confidence for the season, but at some point you do need to start winning. The Hounds hit the road this weekend as they head down to Charleston for the inaugural Old Guard Shield match. A great opportunity to get us our first W in both league and shield play.
What They're Saying
John Krysinsky – Pittsburgh Soccer Report
New season. Same Results.

After four games and more than 360 minutes of play against FC Cincinnati, the Pittsburgh Riverhounds still can't put a goal in the back of the net against the upstart new United Soccer League franchise.
The Riverhounds went to halftime confident with their first 45 minutes and adjusted without a substitution into a 4-2-2-1 formation, but their scoring chances were fewer and far between playing shorthanded.

"After the red card, it was tough. Cincinnati likes to spread their players out, and every time we got the ball, we didn't have the numbers," Riverhounds midfielder Victor Souto said. "Before that, I think we were keeping the ball well and giving them some problems, but after the red card, we changed our structure and the way we were playing."
Matt Welch – DKPittsburghSports
Up to that point, the Hounds had kept pace with the aggressive visitors, countering well and keeping quick passes inside their half from becoming dangerous. But then, playing down a man, Brandt moved Jack Thompson from the midfield to right back, which moved Rich Balchan from that spot to center back beside Jamal Jack. That forced Corey Hertzog to drop back slightly and left Kevin Kerr as the lone man up top.

Brandt opted to keep Thompson in the game rather than substitute another defender because neither Ryan Adeleye (hamstring) nor Chevy Walsh was dressed for the game, and he said he felt the unit he had on the field was meshing well.

"I think what the move did was allow us stick with the group that we had in there," Brandt said. "I felt the group was doing well, and it was the group we wanted on there. I thought Jack did well, but we just lost our punch. That was obvious. That was going to happen no matter who I put in."
Next Up
The Riverhounds travel to Charleston on Saturday to take on the Battery. Kick off at 7 PM
#UNLEASH