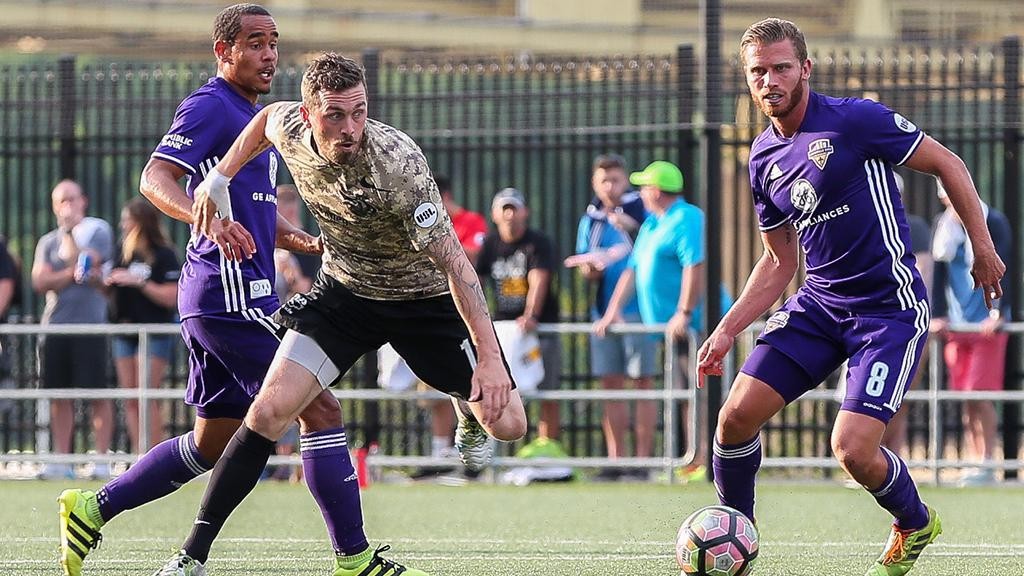 The Hound's three game win and clean sheet streak came to an end on Saturday as they fell to Louisville 1-0. It's a disappointing result to be sure. The match actually seemed pretty even to me and on paper when you have two teams next to each other in the standings playing similar style soccer with similar form of play during the match, I think a draw would've been a fairer result. Unfortunately real life tends to have other plans.
The Hounds midfield continues to be the strongest side of the ball. They had pretty good possession throughout the match and there was some really good build up play. The same can be said of Louisville. The difference maker between the two teams, as you might expect when one team scores and the other doesn't, was on the attacking side of the ball. Louisville started strong and was able to take advantage of the Hounds defense losing a guy to get an early goal. The Riverhounds were the opposite, starting slow but having a strong second half. Unfortunately Louisville's defense and keeper stood strong and kept the Hounds from doing anything with their chances. We've seen similar results for the Hounds offense over the last few 1-0 wins. Outside of one wondrous moment the offense hasn't been able to crack the opponent's defense. On Saturday that one moment just never came.
You have to wonder after the explosive first couple games of the season if teams haven't already figured out Hertzog and Kerr. I hope not or else the next 2/3rd of the season might be rough. I wasn't big on the Parkes signing a couple weeks ago but now it's looking a lot better. You can definitely feel a different tone to the match whenever he comes on in the second half. His presence and skill demands attention from the opposing defense, which is opening up chances for others (and himself when he asserts his will against some poor defender). Fingers crossed we actually see some goals soon.
I'm not sure putting in two new Crew loans on the back line was ever going to end well. Defiantly not with a clean sheet at any rate. Communication and familiarity with your fellow defenders is key, and I just don't see that happening in these situations. Louisville's goal was a direct result of them losing the guy, and there were a couple other similar chance where there was one Hounds defender trying to guard two guys. When the Crew affiliation is invisible, as with long term loans like Hollingsworth, it's been pretty good. Someone showing up for one game, not so much.
What They're Saying
"On the goal, I think Connor got caught up and gave it away, and then he was just played out of position," Riverhounds coach Dave Brandt said. "He had some trouble with Ownby, even before that, early in the game. He had spent a day with us (in practice), so that's on me. It's a quick thing where you cross your fingers a little bit and hope he integrates well (in the lineup)."
Despite a revamped defense, the Riverhounds were not able to halt Louisville City FC from finding the back of Mitchell's net. In the 7' minute, Luke Spencer scored off an assist from Brian Ownby. Ownby started the counterattack after Maloney gave up a ball in the midfield.

However, despite the slip up, centerback Joe Greenspan is happy with the acquisition of Maloney and Abubakar.

"I think they're both fantastic players and they deserve to play at this level," Greenspan said. "They've come into the group and done well. They've only been here yesterday, and today, so it's always tough. I go back to my first couple days with the team and the result against Saint Louis. It's hard to get integrated into the team immediately, right off the bat."
John Krysinsky – DKPittsburghSports.com
Having already beaten Maloney once on the right side for a quality cross in the fifth minute, former Hound Brian Ownby then caught the Crew's third-round MLS SuperDraft selection out of position, and raced past him in the seventh minute.

Ownby found himself with plenty of room going up the right sideline after receiving the ball after a Hounds giveaway. With Kevin Kerr trying to track Ownby down, the Louisville midfielder delivered a low, deft pass into the goal box to Luke Spencer who was standing unmarked behind Hounds keeper Trey Mitchell and center back Abubaker.

It was a simple finish for Spencer
Up Next
The Hounds dropped the game but didn't drop far in the table. Basically Louisville and the Hounds just swapped spots. Once again the next match is against an opponent right below them in the standings. Orlando City B comes to down on June 3rd. If the Hounds can take care of business at home (apparently a tough ask these days), there's a good chance they can take back 3rd place as Louisville has a tough match up against Eastern Conference leader Charleston. The Riverhounds kick off at 7 pm. Tailgate starts at 4.