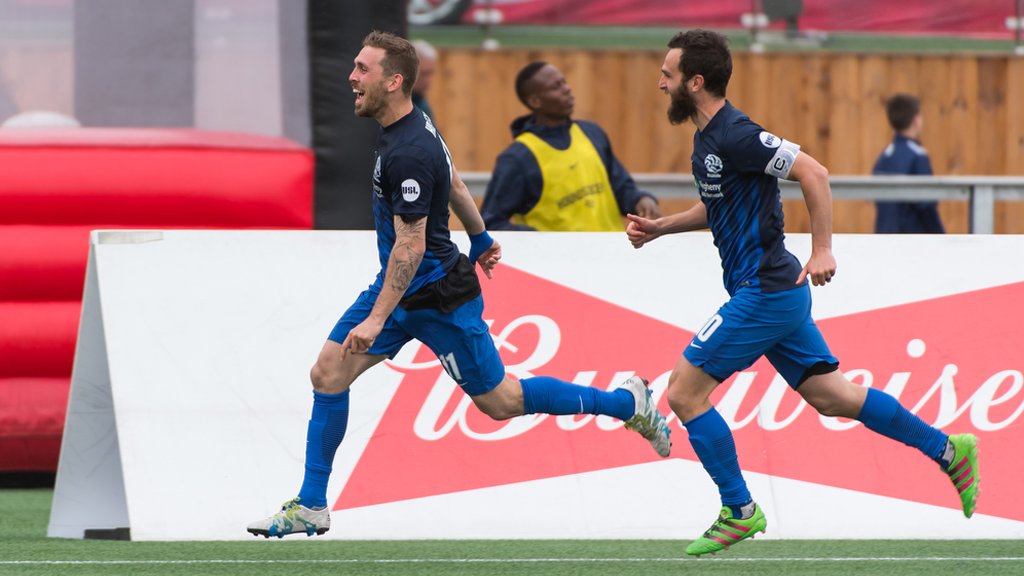 For the third match in a row the Hounds took care of business and came away with another three points. Three consecutive shutouts. +3 goal differential. Third place in the standings. I'd argue the Hounds haven't even looked that good during this stretch of games- no style points for sure. However they do seem to have found a way to plug the leaky defense and bunkered down into playing the counter attack. All you need is that one wonder strike to seal the deal, and they've found it each game. Even though the last couple games haven't been "big" win's (Harrisburg aside), they're important wins in showing the Hounds have turned a corner. Games like the last two against bad teams have been trap games in the past. Not so much this year. If you want to be taken seriously you have to come away with points against bottom table teams (just ask everyone who beat us last year). After a little bit of a rocky start, our current form and position in the standings shows it's time for the rest of the league to take notice.
As for the Ottawa game itself I don't have a lot to say on it as I was admittedly a little distracted by the Thunderbirds flying around. It seems like most of Ottawa was too with how empty that place looked. From what I did see of the match it wasn't a pretty win by any means. Even though the stats say it was pretty even, Ottawa seemed to have the upper hand for most of the match. They definitely had more dangerous opportunities. Fortunately for the Hounds Ottawa has bricks for feet and couldn't put anything away. On the Hounds side great job by Hertzog to sneak in behind the defense for the free header. It's nice to not be on the receiving end of a set piece scramble. Souto was all over the center of the field. We might have to redo the "He's here, he's there…" song if he keeps it up. Jack's going to look like a boxer by the end of the season if he keeps getting whacked in the face.
One final note- I thought it was interesting that after the first goal Brandt took off a defender and put in Parkes. Maybe he felt the team's energy was up after the goal and wanted to go full offense. At any rate Parkes played a lot wider than I expected. I'll be curious to see if that's a one off or how Brandt will want to play him. I think a lot of us thought he would be in the middle like he was last year, but if he plays out on the wings and draws defenders to him, we could see a lot more free tap ins by Hertzog.
Up Next
The Hounds have a busy week coming up. Wednesday night they head up to near Chicago for their first U.S. Open Cup match against Chicago FC United. We expect the Hounds to get the job done and come home with a win. On Saturday, after a pair of games against the bottom of the table, the Hounds face their first real test in a while when Louisville FC comes to town. 3rd place vs 4th place. Kick off at 7 PM. Tailgate at 4.
#UNLEASH