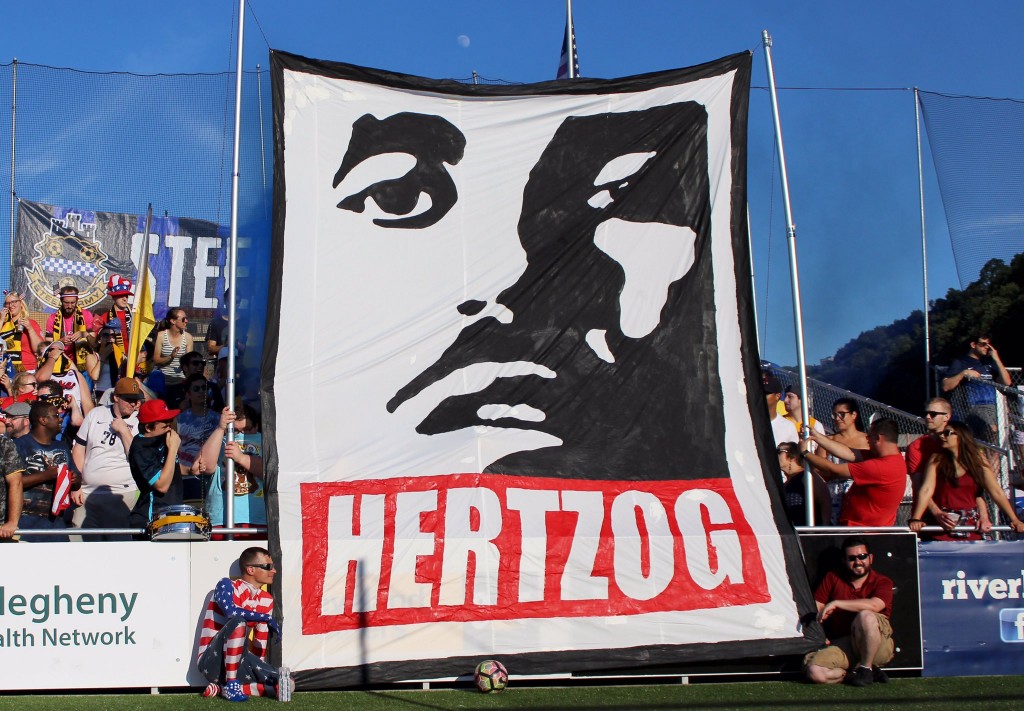 I've lost track of how many times I come out of a game thinking "well they played alright, it just wasn't their night." It's getting tiring to say the least. Maybe the guys had too many hot dogs earlier in the day, or maybe Charlotte just has our number- we're 0-5-2 against them over the last three seasons. Whatever it was, Tuesday night sure didn't go according to plan.
While the roster may have been different, the Hounds played similar to how they did against Tampa nearly two weeks before. This time though the offense couldn't put the ball in the back of the net to save their lives (save for Walsh's pity goal in the 92nd minute). It wasn't for lack of chances either. Hertzog and Parkes had several great shots. They just either couldn't find the corner of the net or keep it within the same area code. It's a shame they couldn't get anything going Tuesday night, especially when you see Kerr having a strong performance. He's really starting to flourish now that he's spending more time back in the midfield. If just one of those those crosses from Kerr or shots from Hertzog / Parkes would've gone in, it goes without saying it would've been a completely different game.
Charlotte's first goal was something I was afraid would happen when you throw in a new keeper who isn't familiar with the back line. I can't help but think the miscue between Robinson and Gomez wouldn't have happen with our regulars. That said outside of that snafu Gomez looked pretty good in his debut. He's a very speedy guy and looked dangerous on the wing. The Hounds were fluid in their formation, switching from a 4-4-2 to a 3-4-3, which allowed him to get up the field and make some runs. As the one guy who's probably going to stick around for a while it's going to be interesting to see how Gomez and Washington are used. Again, just need to get it in the net and that play style looks ingenious.
Despite the score line Brandt must have thought the team was looking good considering he barely used any subs. His second switch wasn't until the 84th minute when dare I say super sub Chevy Walsh was brought on. Walsh has only played 142 minutes this season, but he is rocking the 50% conversion rate. He may not be peppering the keeper, but when he takes his shot he's dialed in. The Hounds need more of that from him and everyone else up front.
We're officially halfway through the season and sitting in the not too great 11th spot in the standings. Better than last season? Yes… but our expectations have quickly evolved. We want more. Fortunately the running theme for this season is how tight the table is. The Hounds are only 2 points out of a playoff spot, and 5 points from a home playoff game. We're also starting to see the games played column even out across the division. It's anybody's game at this point for what'll surely be a slug-fest of a second half of the season. So what do I want to see over the next 15 games? More of what I've seen during the last two matches. I'm not as down on how the team looks as some people are. Even if the result didn't go our way I thought the Hounds have looked stronger than they did during the prior stretch of games. Get some of those shots into the net and everything else will work itself out. It's just that easy right? That said the big thing I want to see over the next 15 games is for the love of God be better at home. 3-5-1 (W-L-D) is unacceptable. You're not going to win championships if you can't win at home. Not to mention you're not going to win fans. There's 7 home games left this year. Let's turn it around boys.
Up Next
The Hounds travel to Orlando this Saturday to take on the lion cubs. OCB's form is about the same as the Hounds and sit on place above them in the standings. It's a critical road match to get some points and jump up the standings. Kick off is at 7:30.

#UNLEASH