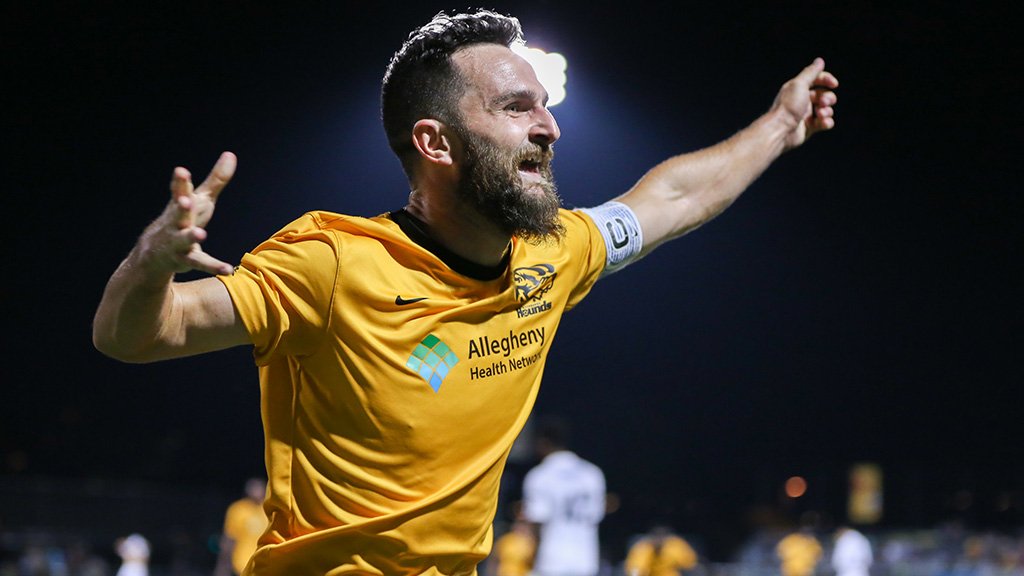 Don't look now but the Hounds are hot! On Saturday night the boys smacked down visiting Bethlehem for their third straight win and third straight multi-goal game. While we would prefer to not be on the outside looking in on the playoffs, the final stretch of games is exactly when you want your team to find their groove. And boy have they. We're finally seeing the exciting multi-goal games that we saw at the beginning of the season; games that have been sorely missed. It's not just exciting because of the recent results but exciting because the team is looking good. Despite the recent rash of season ending injuries in key players like Hollingsworth and both Mitchel and Broome, something has finally clicked in the locker room. We're seeing confident play by the midfield and offense, and most importantly Hertzog found his groove. Over the last few games he finally broke up with the post and is now in a committed relationship with the back of the net. Between Hertzog, the pleasant surprise Walsh has been in the second half of this season, and the always dangerous Parkes, the Hounds offense is one to be feared down the home stretch.
Every game is a must win at this point, and fortunately for the hungry Hounds a lot of the teams above them are stumbling. None more than their next opponent- FC Cincinnati. Cincy has just one win in their last 5 with two complete ass kicking 4-0 and 5-0 losses. It's not going to be an easy game by any means, but they aren't a team to be feared.
Speaking of Cincinnati, we're going! I know it's sort of last minute but when Tuffy says he's going to pay for a bus, you don't say no. The bus will be free, you just may have to buy a ticket to the game. With an early kickoff at 4 pm it shouldn't be too late of a trip. Since this is a team run trip all are welcome. We need to get a headcount to the Hounds either today or tomorrow so make your knee jerk decision to come now and let us know on Facebook. We'll post more info as we get it.
#UNLEASH