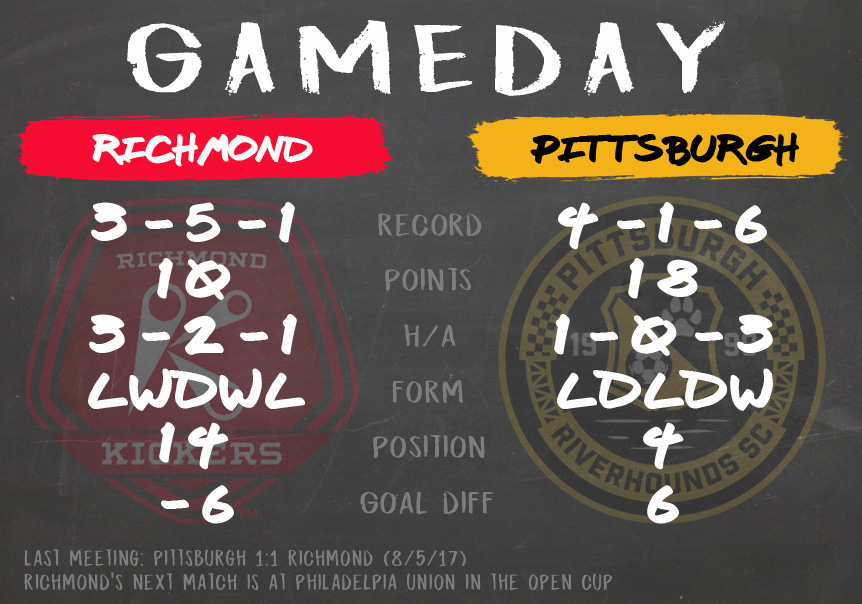 City Stadium – 7PM
Watch: Locally – Pittsburgh CW, Nationally – ESPN+

REF: Mr. Lukasz Szpala
AR1: Mr. Jonah Kind
AR2: Mr. Brendan O'Neill
4TH: Mr. Nicholas Furnish

Via Bet365
RIC +187
DRAW +240
PIT +110
Coming off the worst eight day stretch of the seasons, the Hounds will look to get the ship back on track as they travel down to City Stadium to face the Kickers. It isn't that the season has gone bad, but more that the team is in the middle of a hiccup that everyone would prefer to see go away quickly, instead of allowing it to linger around. It also marks the end of the beloved's most condensed run of fixtures that they'll face this season. With next weekend off, it would be nice to go into the break on a high note, taking all the points back across the Mason-Dixon line.
For Richmond, its a side that hasn't developed an identity. They individually have enough talent to be a team in the top half of the table, but the pieces haven't come together. The defense has been lax and the tactics have, to the point, not fit what has been needed. Mark Goodman posted his full thoughts on the Kickers at PSN and it certainly hits all the right notes about where the Kickers are currently off the mark. Hopefully, Richmond stays lost for at least one more night and allow the Hounds to fix their own offensive woes.
For the Hounds, its high time they convert on the chances and sore a goal (or three). Most of us are of the opinion that the guys aren't suffering from a lack of opportunity, but rather a lack of finishing off those opportunities. When that's combined with the opposition taking advantage of the one or two chances they are given, bad times start to emerge. As Matt Grubba correctly points out, a quick trip away from Highmark Stadium may just just the thing the side needs to help get the heads right., A positive for the squad is that the injury report is getting a little smaller. A couple more bodies in the mix to provide some added depth and competition will be needed as we turn the corner into the hot days of the season.
Tonight marks the second game for the Hounds in the 2018 edition of the Old Guard Shield. It will be Richmond's first match. The Hounds will need to take all the points to out themselves in a good position to bring the Shield to the 412 at season's send.
Watch Party
There is a small watch party planned for tonight. Want to know where its at, find out on our Discord channel. No, we won't tell you elsewhere. The Discord has been an excellent way of keeping the conversation going between matches and we want more of you on there to make it even better.
UNLEASH!