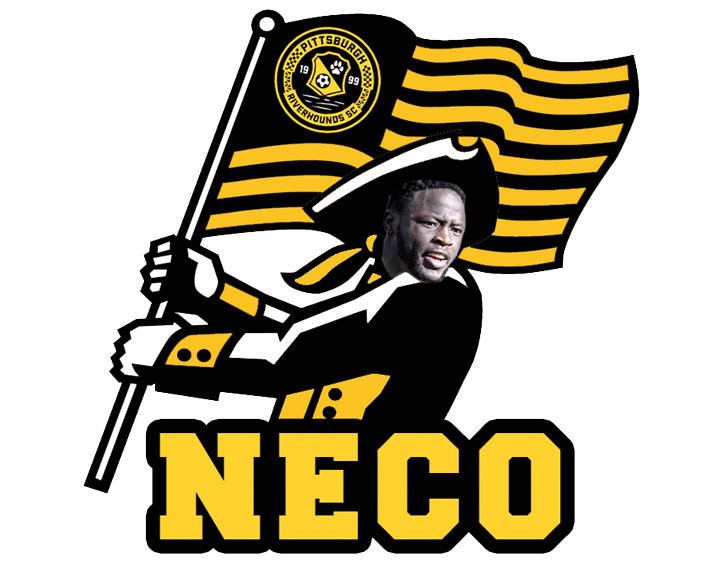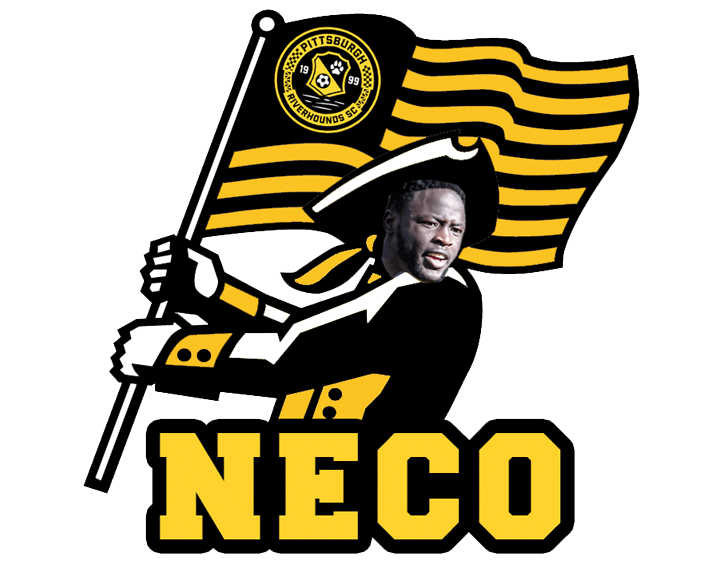 The good times train keeps on rolling with the Hounds picking up their third victory in a row. BUT AT WHAT COST?!?!!!?
Dramatics aside this was another mostly dominate performance from the Hounds. The midfield was smothering, the offense had several dangerous chances, and except for a pair of miscues the defense was stout. It's the kind of match we fully expect at this point.
Neco Brett continued his march all over opposing defenses and up the golden boot rankings. His first goal showed a wonderful bit of finesse and ball control as he undressed the defender to find a bit of room. That roll over was something only a striker oozing with confidence would do and pull off. To follow that up with a pin point perfect shot at the corner makes all the boys and girls hearts flutter. His second goal was a fairly simple tap in thanks to the Francois Show down the wing, but his run into space was no less impressive.
On the defensive side Bethlehem was able to slot one home in a rare and stunning blunder in marking. A lot of goals given up recently have been weird-ish strings of play where the ball bounced around a bit first. Not this weekend. Bethlehem's dude just ran through the defense nearly unchallenged and slotted one past Lynd. For all the things the Hounds did right this was a shocking play to see and hopefully a one off.
The big story coming out of this one is Lynd getting hit into next week. As the season has progressed Lynd has gotten more and more brave to make runs at an attacker. This time it went wrong in the worst way possible. After taking a knee to the face Lynd looked out cold and very dazed once he got up. Kirk came in to finish out the final 15 minutes but didn't have all that much to do. It definitely seems like Lynd will be our for a while. Hopefully we'll have some more news soon. Losing your starting, golden glove leading keeper is never a good thing. Doubly so heading into the final third of the season. We saw last year how much the season can take a turn when you lose your top two guys. That said Lilley's system has shown several times this season that the guys on the bench are always ready to step up when called upon. Kirk may have started the season as the #3, but he wouldn't be here if Lilley didn't believe in him. Fortunately anemic Charlotte comes to town on Saturday. Unless they all of a sudden get streaky again and go one a tear, it should be a relatively easy one to get Kirk comfortable between the pipes.
Notes
For all the focus on Brett lately, Francois is probably the most dangerous guy in the line up. He is an absolute machine on the wings and always gets you on the edge of your seat once he gets the ball.
A much better first half than we've seen in some of the recent games.
Might want to do a couple coats of yellow on those lines Bethlehem. And while you're at it fill in that dirt patch in the left corner. Good lord.
Parkes made it back to the bench. Out of the dog house?
Don't look now but the Hounds just surpassed the 2015 season points total which now makes this season the second best in history. Regardless of what happens down the stretch this has been one for the ages.
—
The Hounds return home this Saturday when Charlotte comes to down. Kick off is at 7. Tailgate starts at 4.
#UNLEASH