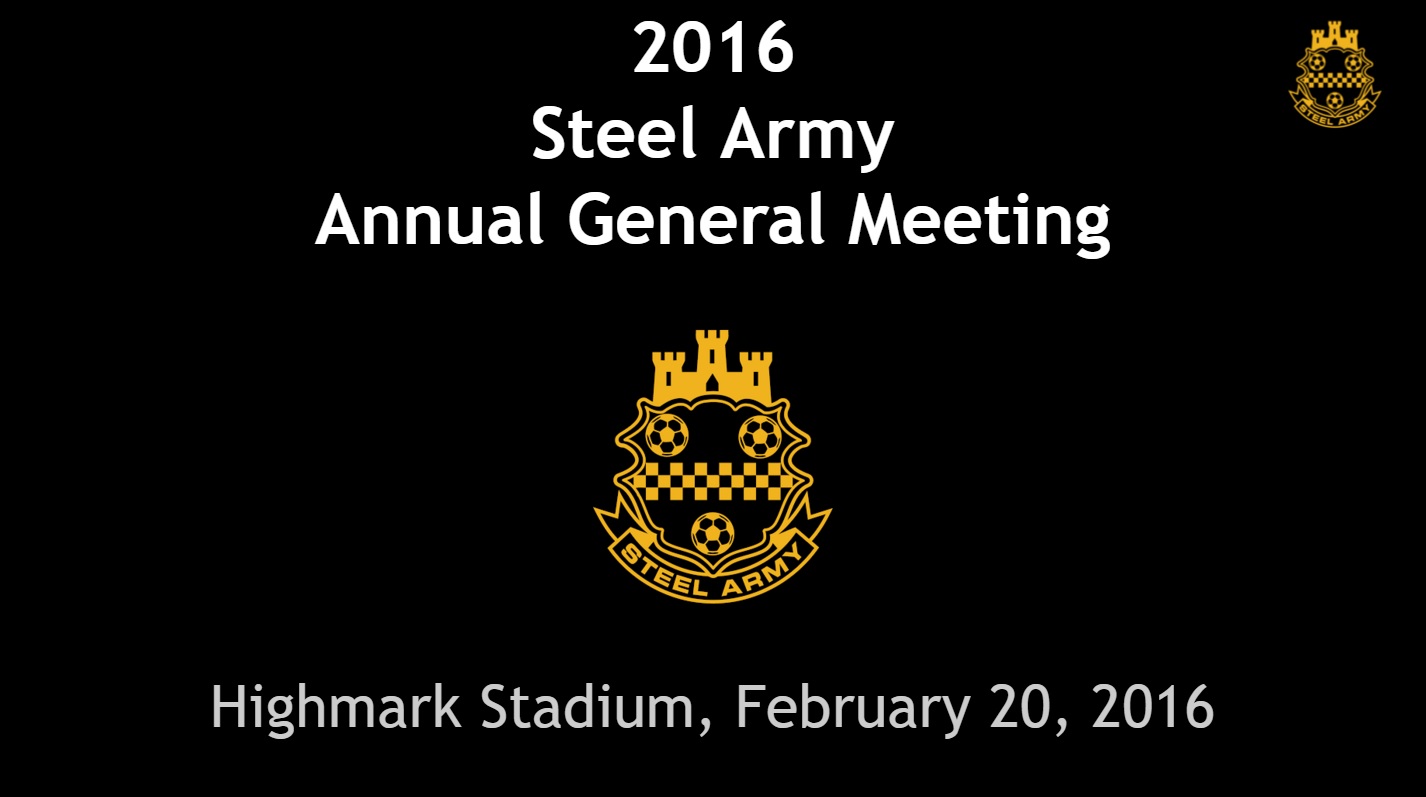 Last weekend we had our 2016 annual general meeting at Highmark Stadium. Thank you to the 50 or so folks who made it out! We're floored by your support, and it was great to see so many new faces. For those of you who weren't able to make it out below is our recap of the meeting. Buckle up- it's a long post. If you have any questions, comments, or concerns feel free to reach out to us.
—
First and foremost a big thank you to the Hounds for hosting our meeting. We appreciate being able to use the club level for our meeting, and the snacks were delicious.
We kicked the meeting off with Stephanie Harrison, founder and GM of Steel City FC. She talked to us a little about how the women's team did last year and some info on their upcoming season. We, and it sounds like the Hounds too, want to continue to support women's soccer in Pittsburgh this year and do what we can to help it grow. If the schedules align we want to try to make it out to some of their matches.
Next up Mike Warren, Jodi White, and Ian Thompson of the Riverhounds FO spoke to us a little about the team and some of their initiatives this year. We also had a couple surprise special guests in coach Josh Rife, and players Corey Hertzog and Mauricio Vargas. We appreciate both sides of the club taking time out of their day to talk with us.
We then rolled into Steel Army business…
Membership Package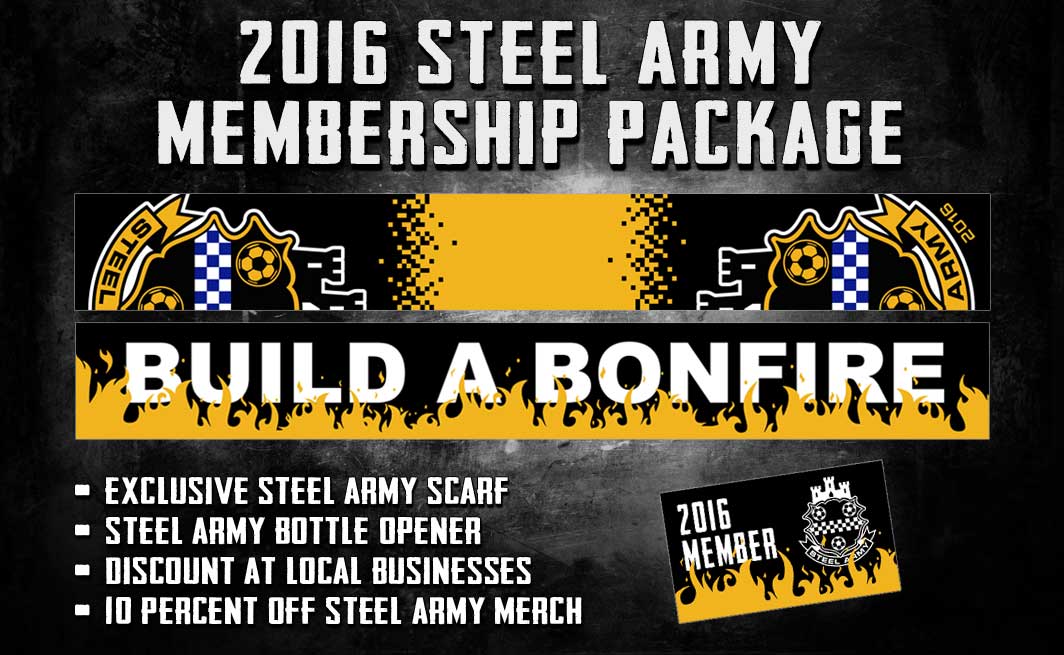 The 2016 membership package is now available for sale. Business discounts are the same as last year. If you know any local businesses that would like to partner with us drop us a line. At this time membership packages are only available in person and cash only due to us switching bank accounts around (see financial section below). We should have them available online soon.
If you picked up a membership package at the meeting please stop by our table at the tailgate at the home opener to get your membership card.
Merch plans for 2016
Steel Army member jackets are back! They were a big hit last year so if you missed out or are new you have another chance. Membership jackets will be available in the Speakeasy section of the website once we get the bank account stuff sorted out.
We're doing t-shirts this year! It's been a while since our last run. We know we dropped the ball last season by not getting shirts out there, but we won't this year. T-shirts are a priority. We're collecting shirt sizes during membership sign ups so we have an idea on what to order. We're looking to do the run around May.
We'll also going to look into bandana's and other small things through out the season. If you have merch ideas let us know!
Footgolf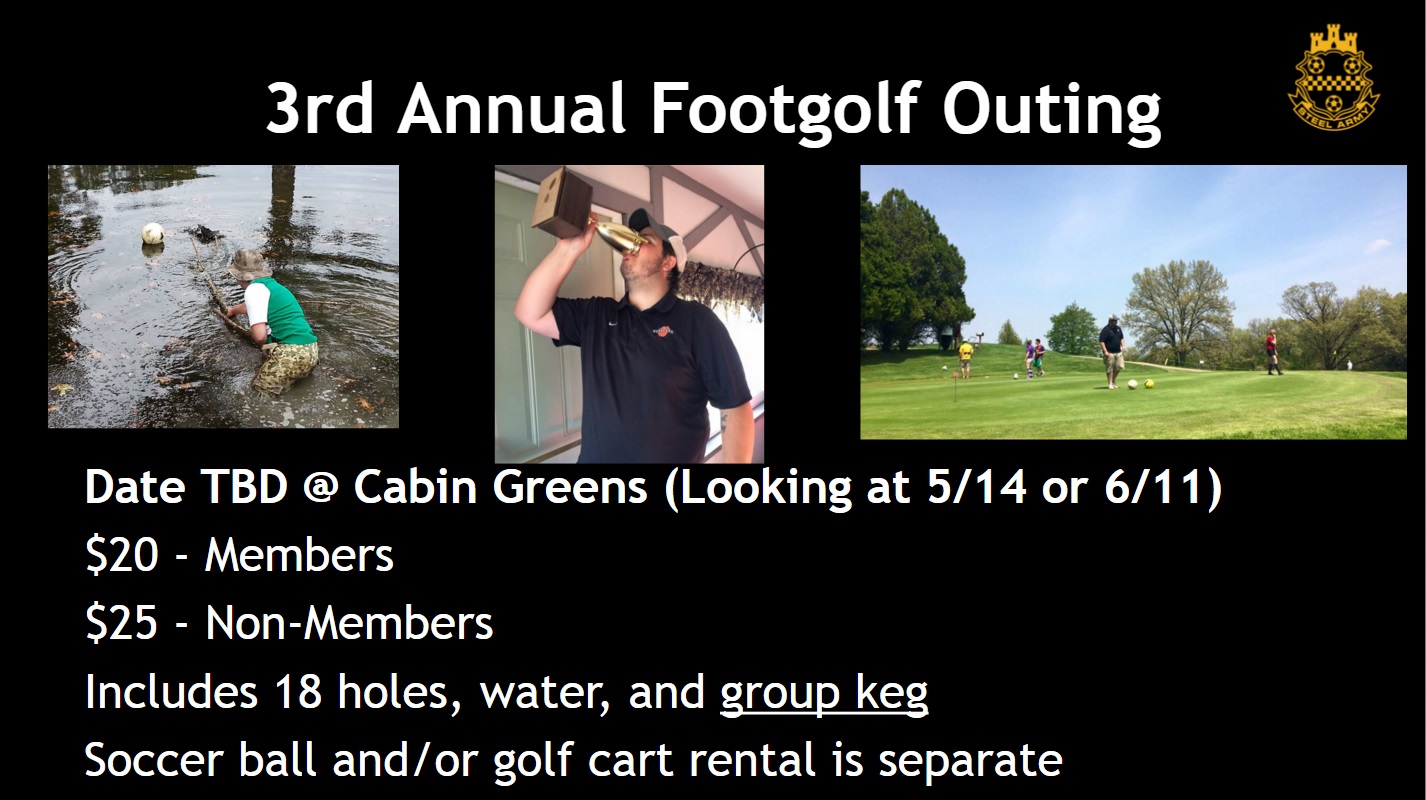 This year will be our 3rd Annual Footgolf Open at Cabin Greens golf course. It's been a blast every year and we're looking forward to another beautiful day out on the links. Date is still TBD, but we're looking at either 5/14 or 6/11, so mark your calendars. $20 for members, $25 for non-members. 18 holes, free water and beer, and a kick ass trophy to the winner. Soccer ball, cart rental is separate. We'll have the definitive date and sign up information on the site soon.
Watch Parties
We're retooling watch parties this year. Watch parties are something that we've struggled a little with over the years. It's tough to get people to dedicate nearly every weekend to a Riverhounds event, and as the season goes on the number of attendees sharply drops off. Plus it's the summer, we know you all are busy. What we've found is when someone hosts a party at their house we get much better turn out. It becomes more of an event. So what we want to try this year is have watch party house parties. We're not looking to do every away game, maybe 4 or 5. Watch parties will be BYOB, and the Steel Army will provide some food. If you want to bring snacks too that's great! It sounds like we already have enough volunteers for this year, so once we work out dates with the hosts we'll post the info.
Other Events
We'd like to do some events through out the year outside of game days. A group of members went to play Laser Tag after the AGM and it sounded like it was a great time. Maybe a pick up game at Highmark Stadium. Things like that. Keep an eye out on our social media accounts through out the year. If you have any ideas for a Steel Army event or want to help organize one drop us a line.
Away Trips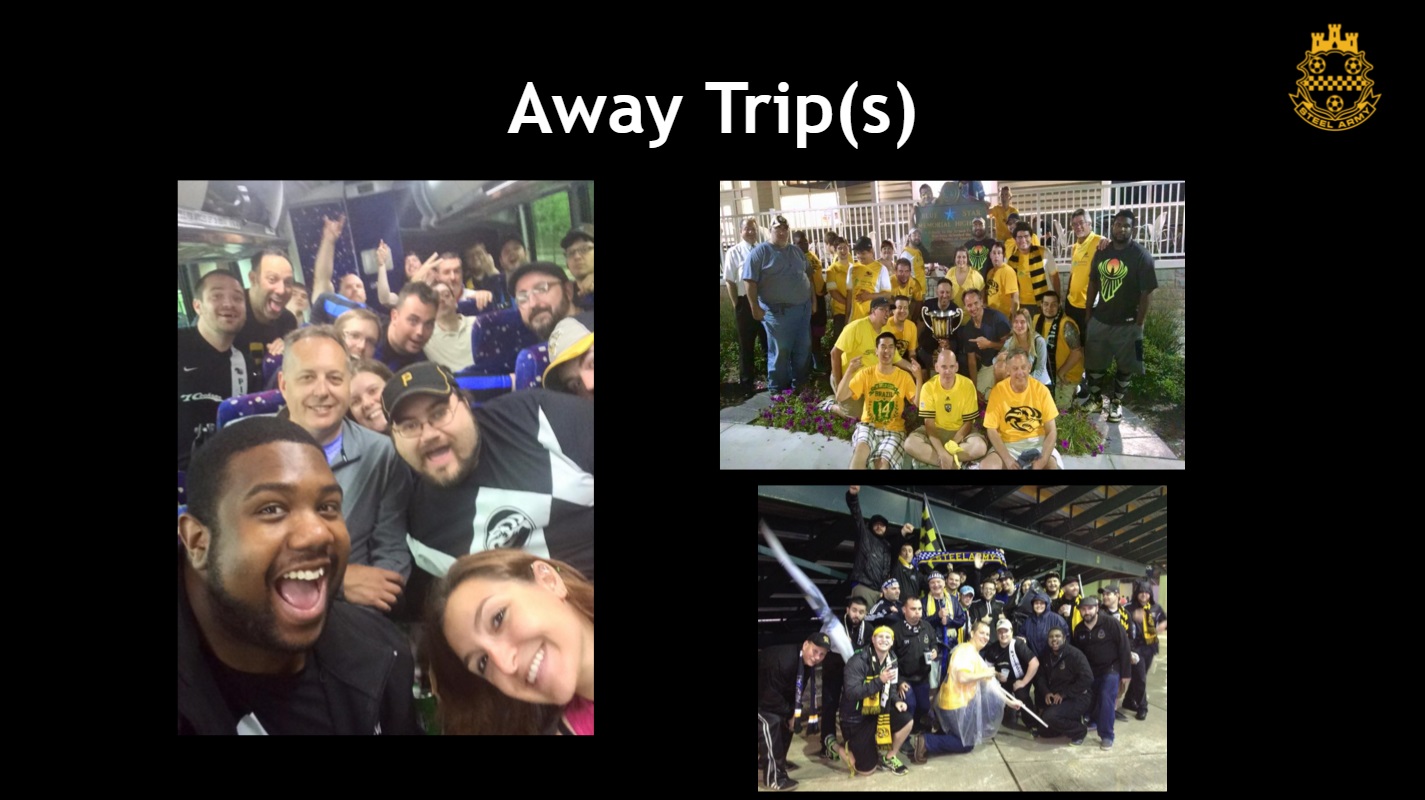 Away trips are a ton of fun! Last year we were able to go on three trips mostly due to the generosity of the Riverhounds. All were memorable in their own way, and all were a great time for the road warriors. This year we're looking to do at least one regular season trip. While the team was very generous last season and covered all of the trip(s) costs, we don't want to start taking advantage of them and shouldn't come to expect it. Based on our end of the year survey our goal is to have away trips cost around $30. This way the cost should be pretty reasonable for both sides if the team would like to help out.
We've narrowed down possible away trips to the following dates. Once we decide which one we want to do we'll let everyone know.
5/14 @ Cincinnati
8/20 @ Rochester
8/27 @ Harrisburg
9/18 @ Bethlehem
Keystone Derby
The Keystone Derby is back this year with the cup sponsored by the PA Lottery. Same deal as last season. The one thing to note is Bethlehem Steel will NOT be involved.
Gameday
Nothing really new in the tailgating world. Everything went great last year and we're going to keep it up. Maria is asking for donations of tailgating supplies like napkins, plates, cups, etc. She could also use help for the ever popular jello shots in the form of bottles of vodka or cash to buy those little cups. Please contact her first if you'd like to pitch in so she can make sure we don't get too many of one thing. Also if you're planning on bringing any large quantities of food let us know.
First goal / last goal raffle will be back. Only change this year is we're going to have you write your names on the tickets so we can track down winners easier.
The march to our section is a divisive thing. Some people like it, some don't. It also is greatly effected by the turn out / day of the game. Instead of saying we're definitely going to march every game, we're going to judge the crowd each match up and decide then if it's a go / no go.
We're also planning on replacing most if not all of the flags at some point this year.
Chants
Big props to Dyson for all his hard work last season as CAPO! This year we want to tweak it a little so that someone doesn't have to have their back to the game. The idea is to have people in the middle of the section start chants and hopefully it'll organically radiate out from there. This should allow us to react better to what's going on in the game. We also want to try to move away from the strict "3 and done" thing we've fallen into. When we do chants for short, quick bursts we end doing same ones 4 or 5 times a game. It can be tiresome. We want chants to last as long as it feels appropriate. This means sometimes they'll be short, sometimes they'll go on for several minutes. There have been times over the last few seasons where we did a chant for like 10 minutes. Those moments are a lot of fun. We want to try to have things like that happen more often.
We also want to watch the "mature" chants. As the season went on we started to lean more on chants with f-bombs. Based on the end of the year survey some of you don't mind it, some of you do. We want to try to find a middle ground. Also, just a reminder to be mindful of your surroundings. If you're in the middle of the section it's not really a big deal. If you're on the edge by where the general public sits, maybe use an alternate word. We're not saying we want the section to become a G rated Disney movie. We just want to check ourselves a little and find that happy medium.
Finally, there's been a lot of turn over in players this offseason so we're losing a lot of chants. There's a ton of opportunity for new songs if you have an idea.
Tifo
Last season we did five tifo's, and I think they were all in the first half of the season. It was kind of crazy getting all that together in such a short amount of time. This year we're planning on at least three. Home opener, 4th of July, and last game of the season. Depending on what happens with the Open Cup and away trips we may do more. The important thing with tifo is we need people to come out and help paint them. The larger and more complicated we make them, the longer they take to paint. Some of it was bad communication on our end (which we'll fix), but a few of the painting nights last season had a really low turn out. We do some of the best and biggest tifo's in the league. If you like them and want to see us keep doing it then we need the support. If we don't see the interest then we'll have to cut back on tifo and put those funds towards something else.
Also a reminder, if you come out to a tifo day we could always use extra brushes and containers to hold paint. Doesn't have to be anything expensive, the cheap $1 brushes at Home Depot work great.
Financials
I think the dollar amounts speak for themselves. We bring in a lot of money through memberships and merch, but it takes a lot of money to run this group. The only thing to note is expenses like jackets and footgolf are a little misleading. With those we're taking money from you all but then send it right to Cabin Greens or the embroiderer. However, it still shows up on our expense reports since it comes through our account.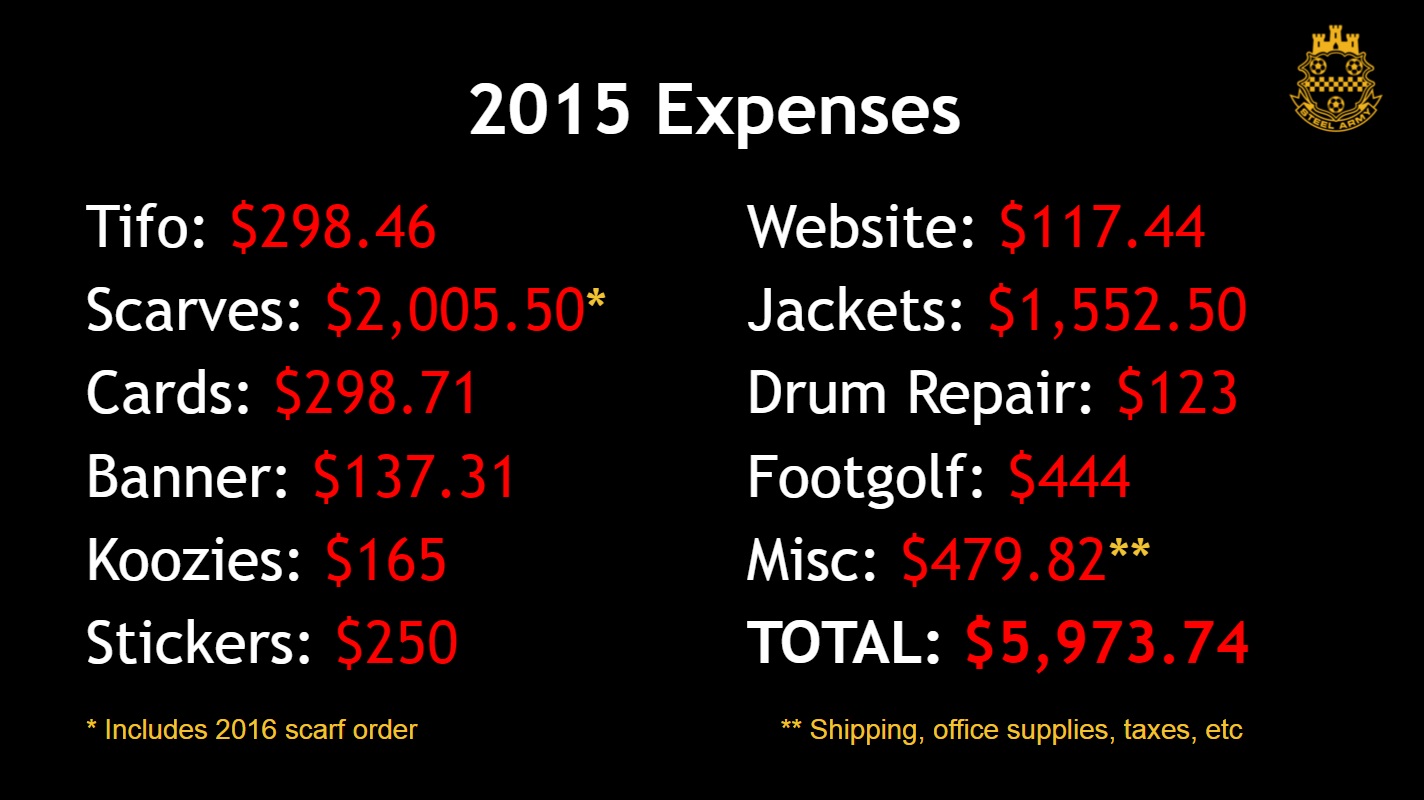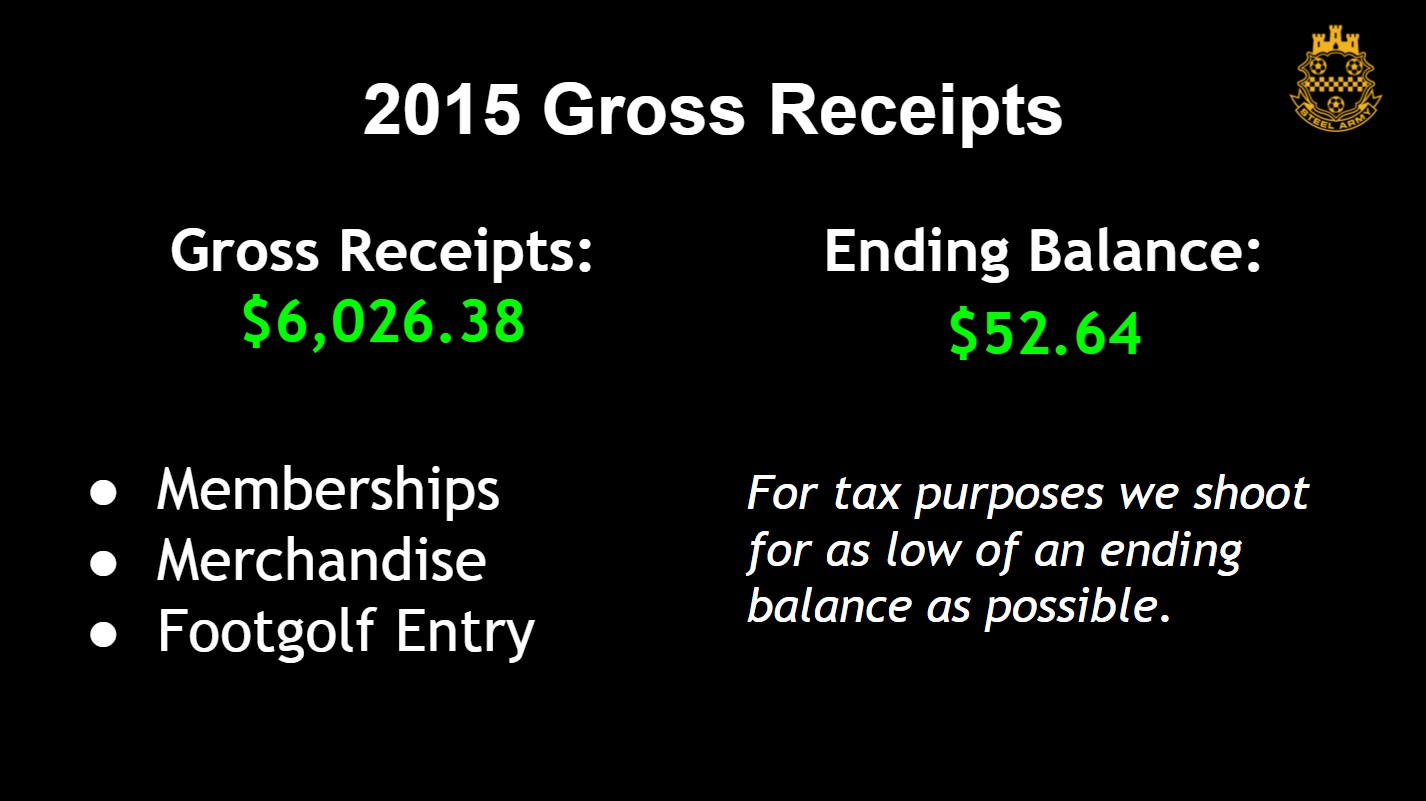 A brief word on bank accounts and non-profits: Long story short we decided incorporating as a non-profit (a 501(c)(7) Social Club) is best for the Steel Army long term. Last year we were registered as a sole proprietor LLC. It worked well, but for various reasons it's not a great long term solution. Becoming a non-profit allows the group to be officially run as a independent organization without any board member's personal accounts or liability tied up in it. Plus we can keep a balance in a bank account and not have to worry about taxes on it. This is why it's taking a while to get the online store and credit card purchases going. We've had to file with the state and get an EIN before being able to open a bank account / Paypal account. It's taken a little longer than we thought but we should have that set up soon. Once we do we can start taking online orders.
Steel Army . com
We've made several behind the scenes tweaks to the website. I was hosting everything on my personal account. Last year we moved it all to it's own separate account with will be owned by the non-profit. We also switched primary domains from steelarmypgh.com to just steelarmy.com. The former is still active and will act as a redirect for the foreseeable future. We also made several tweaks to the mobile version of the website to improve readability.
We're going to start a new feature on the site called "Meet the Army". The Steel Army is starting to get pretty big and not everyone knows everyone. Over the years we've formed close bonds and found great friends, and we don't want that to fall by the wayside as we grow. So throughout the season we'll have posts here featuring a Steel Army member telling us a little about themselves. We know not everyone likes to put themselves out there. If we approach you to do it and you don't feel up for it just let us know. No harm no foul.
I called for a couple volunteers to help with the gameday and recap posts during the season. The blog was mostly a two person affair last season, and as passionate as we are, doing 32 pre and post game posts is draining. Several of you stepped up after the meeting and will be lending us a hand.
Member Representative Elections
We had a record number six people nominated for the two open board positions. A big round of applause to you all for stepping up. We'd love to have you all on the board, but there can only be two. After the vote we're happy to announce Mike Shoemaker and Zach Waldman will be joining the current board members for 2016. Thank you to everyone who participated!
—
I think that's about everything. Again, if you have any questions, comments, or concerns about anything we discussed please reach out to via email, Facebook, or Twitter.
#UNLEASH