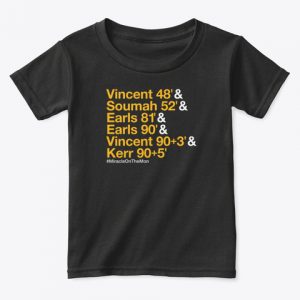 Hey Army! Long time no talk. We hope you all have been keeping healthy and sane over the last couple months.
Even though the beloved aren't playing (yet) we still have cause for celebration. Today marks the 5th anniversary of the Miracle on the Mon match against Harrisburg– one of it not the most memorable match in the Highmark era. I you ever want to get pumped up or fall in love with soccer all over again, this is the match for you. The Hounds will be replaying the game on their Youtube channel tonight at 7.
For our part we are putting back up our Miracle on the Mon t-shirt we did last year for our members. It was a very popular shirt and such an occasion warrants bringing it back out. This time though we're opening up ordering to everyone. You do not need to be a Steel Army member this time around. If you're not familiar with our member shirts of the month, we've been using Teespring to put up shirts with one off designs we folks might be interested in but probably not in enough numbers for a full run. The plus side of this is thanks to Teespring we have almost any style and size you could want. We're selling these are close to cost as we can so if you like what you see check it out!
Hey, did you also know long time soccer writer and friend of the Steel Army John Krysinsky is writing a book on this match? If you're like us and are anxiously waiting to get your hands on it make sure to keep an eye on his site for more details on it's release. I'm sure it's going to be a great read, plus look at that positively stunning cover art by one of our favorite former players Danny Earls.
Tonight is going to be a fun night for Riverhounds fans as we relive the match. Hopefully someday soon we can do this all again in Highmark Stadium.
#UNLEASH