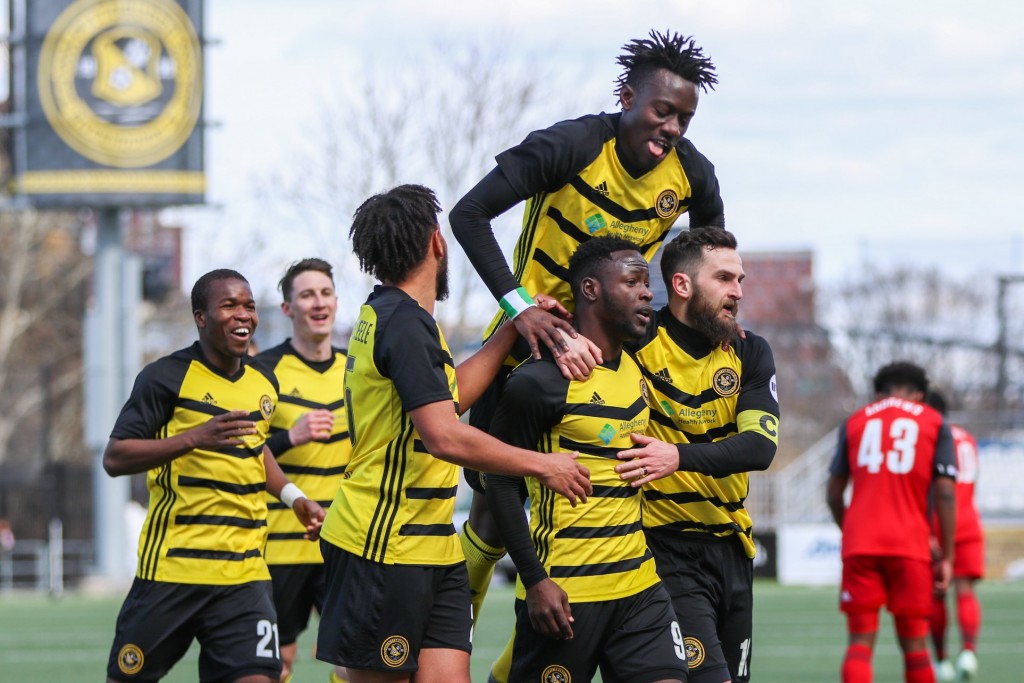 While the weather felt like we were in Toronto, that's about the only thing the Canadian side brought it Highmark Stadium. It was clear from the get go which side was the professional team and which side was he glorified academy squad. Glad to see the kids got permission from their parents to cross the border.
Boy does it feel good to run up a score. This is the 6th time in the last 93 regular season games we've eclipsed 4 goals in a match, so not something that happens very often. The last time we left a game with a +4 GD was, maybe unsurprisingly, against TFC 2 at home on 4/25/15. As was pointed out in a couple pre-game notes, the Hounds have never lost to TFC2, and it doesn't seem like that's going to change anytime soon.
Speaking of never losing, is it too early to say we're never going to lose a match this year? Sure feels like it. Maybe it's just the quality of opponents but the Hounds defense has been lights out. Not to discount Lynd and Morton, but we could put our wavy tube man in goal and still have three clean sheets. In the last two seasons the Rhinos only lost 6 games, and 5 of them were last year. As advertised we're a Lilley coached team. So far I'm liking the chances of that sort of season end record to continue.
As far as the game goes you can pretty much sum it up in one word- dominate. Even in a little bit of a scrappy first half the Canadians never appeared to be much of a threat. 16 to 6 shots in favor of the Hounds. I don't know where 5 of Toronto's even came from. More importantly than the stats we got a good look at some of the Hounds depth. Pratzner filled in great for Greenspan, Zemanski had some great setups in his first start, and of course Brett stole the show up top. Last season if one of our starters went down we were kind of screwed. This year we could probably go three deep without any sweat. This little spring in my step is weird, but I like it.
Notes:
Depending on the severity of Parkes injury we may have a bit of a striker conundrum. Brett lite up Toronto, but it is Toronto. Parkes as struggled recently, but is a much bigger target. We'll see soon if their starter / sub spots have been swapped.
Big fist pump for Francois' goal. Not only was it the prettiest of the day, but the dude's been itching for one over the last couple weeks. The winger continues to be really exciting to watch.
Second game in a row where Kerr left early. Match fitness issues or tactical changes?
Vancaeyezeele has been improving a little each game but still has some rawness to him. Two yellows in three games puts him on pace to be this year's Earls.
Pretty quite game for Morton. With how lights out the D has been it's been tough to get a good read on either keeper.
Liking what I'm seeing from Lee and Dover. Not terribly flashy but they're doing solid work on the wings.
—
Hey don't forget we're going to Richmond on June 2nd! Or at least we're hoping we go. We have a hard deadline of May 1st to get most of the bus filled or else we'll have to cancel it. Don't drag your feet on us. Sign up today!
#UNLEASH