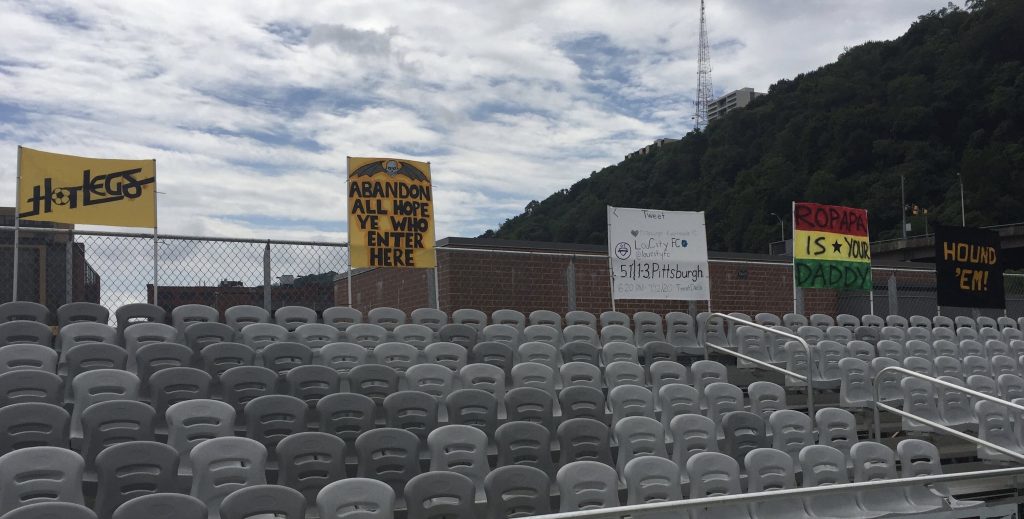 Hey You! Yes you! Did you see the two sticks in the supporters section during the game last night? Look good huh? You know what would look even better? More two sticks! The Hounds have at least 7 home games remaining, and it doesn't seem like we're going to be allowed in any time soon. So why not put your personal touch in Highmark Stadium? For the rest of the season if you drop something off we'll put it up for the next home game and every game after that. Consider this an open call for your art.
The drop off location is in Squirrel Hill. Steel Army members, the address is in the Speakeasy section of the site. The password is in the Dispatch emails. If you are not a Steel Army member, message us and we'll give you the address. Simply leave it on the front porch if you want to maintain social distancing.
If you make something for a specific game, we need it at least 3 days before that game so that we can get poles for it (if not provided) and get it to the team. Otherwise drop it off whenever is convenient for you.
General guidelines-
– Please keep it PG.
– It should be a personal sized two-stick, sign, banner, whatever, as shown in the above photo.
– We prefer a two-stick so that we can tie it to a seat and have it upright. We will not be hanging banners over the front railings.
– There's a good chance these will be left up for a while in the elements. Paint and fabric hold up well. Cardboard, not so much.
– We would appreciate it if you could provide the poles for your two-stick, but we'll provide them if you're unable to. Your two-stick poles should be able to clear about 3 feet off the ground to get above the seat it's being tied to.
– Make as many as you want. No limits here.
– Do not expect to get it back.
If you have any questions feel free to reach out.
#UNLEASH