Hello Pittsburgh!
It's decidedly 2021, roster announcements are steadily coming in, and we even got a glimpse of the structure and start date of the league this season. Nature is healing. So, I'd say it's about time we get our ball rolling too. We're happy to announce that our 2021 membership package is now live on our online store!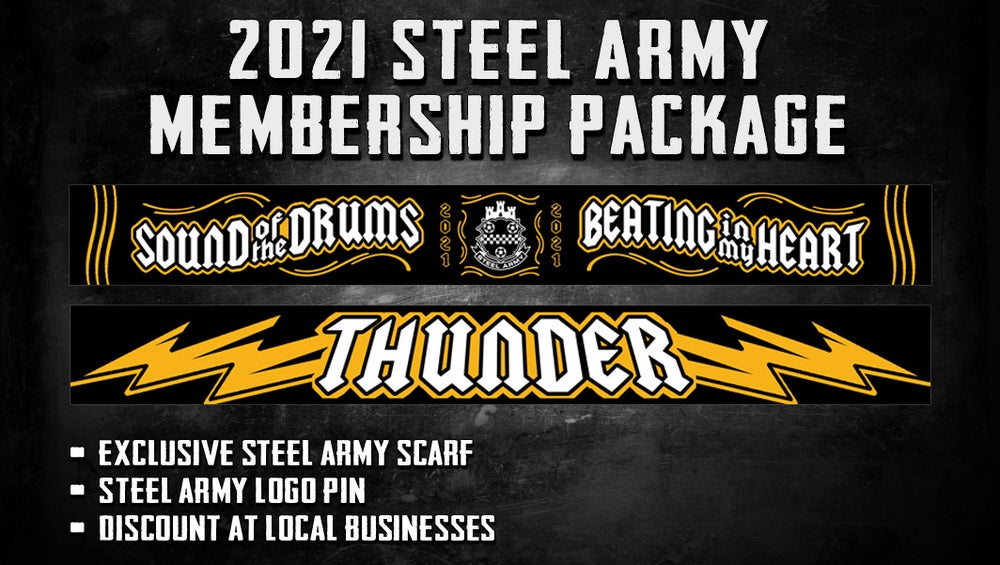 Our scarf this year is a nod to one of our cherished tailgating traditions, and one that we are cautiously optimistic will happen once more sometime this year. We're really psyched about the design this year and hope yinz are too.
Like with a lot of things this year we're off and running a bit later than usual. To that end membership packages will probably not start shipping out until late February or early March. At the moment we do not have any plans for any in person events for pickup, so please make sure to selecting shipping if you want your scarf anytime soon.
2020 Steel Army Members: A reminder that as thanks for purchasing a membership during the weirdness of last year, you can re-join this year at a reduced rate. You should have received a Dispatch email in December with the details. If you have any questions or didn't get the email, let us know.
---
Some other small news / notes while you're here-
–  We have a surplus of 2020 scarves. You can pickup one at a discounted price on the online store (scarf only, does not include membership).
–  The Shirt of the Month shop on Teespring is currently closed. We'll fire this back up when the season starts.
–  AGM details are still TBD. We will probably do something a little closer to the start of the season instead of in February.
---
Rode down the parkway
Broke the limit, we hit the town
Went through to Pittsburgh, yeah Pittsburgh, and we had some fun
We met some Hounds
Some boys who played a good game
Broke all the rules
Played all the fools
Yeah yeah they, they, they blew our minds
And I was shaking at the knees
Could I come again please
Yeah them Hounds were too good
You've been
Thunderstruck
See yinz again soon.
#UNLEASH