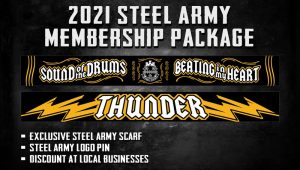 Heeeeey Army! If you were living under a rock on Tuesday you may have missed that the Hounds announced their home opener this year will be on June 6th. Still quite a bit away but now that schedules are starting to solidify that means it's time for us to start waking up from our very, very long slumber. So along those lines we're happy to say we're starting to ship out our wonderful 2021 membership packages. We appreciate your patience with the beginning of the year delays.
If you're not a 2021 member as always you can sign up through our online store. In fact this is the only method at the moment until we potentially start seeing each other in person later this year.
Speaking of seeing yinz in person, it does look like the Hounds are planning on limiting attendance to matches this year to season ticket holders due to reduced capacity. If you're sufficiently stir crazy like the rest of us and want to come see our Hounds in person, make sure you call the Hounds ticketing folks and get season tickets. Things are ever fluid this year so that may change, but for now it's your only guaranteed way into Highmark Stadium.
Finally, expect to hear more from us now that things are rolling. We're still planning on some sort of AGM before the season starts among other things. I don't know about you all but I have been so freakin bored this winter and can't wait to get going.
#UNLEASH