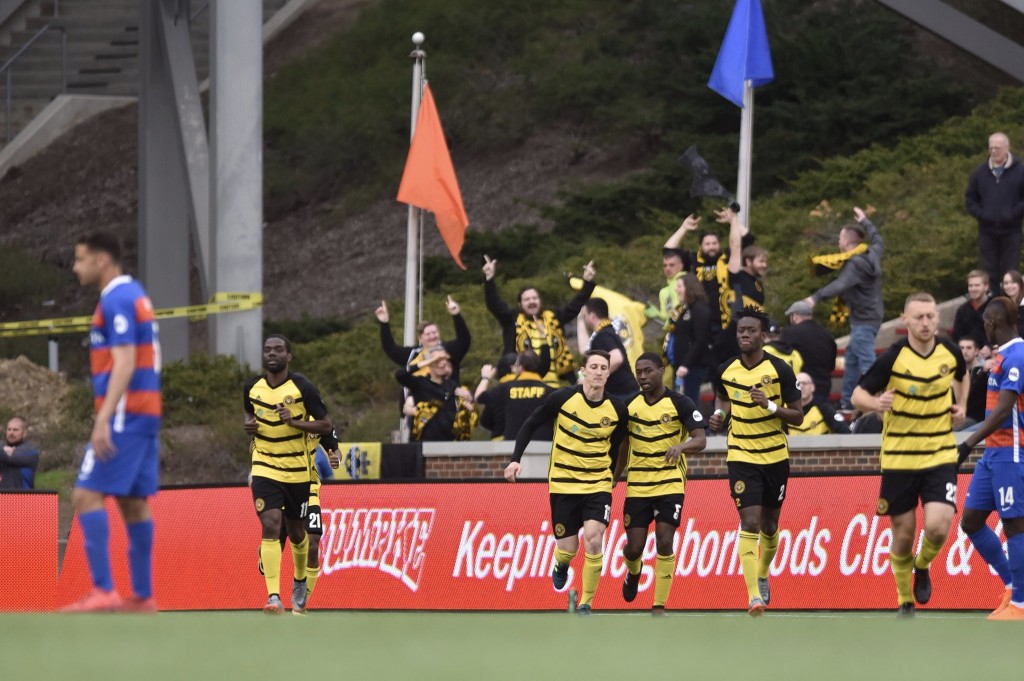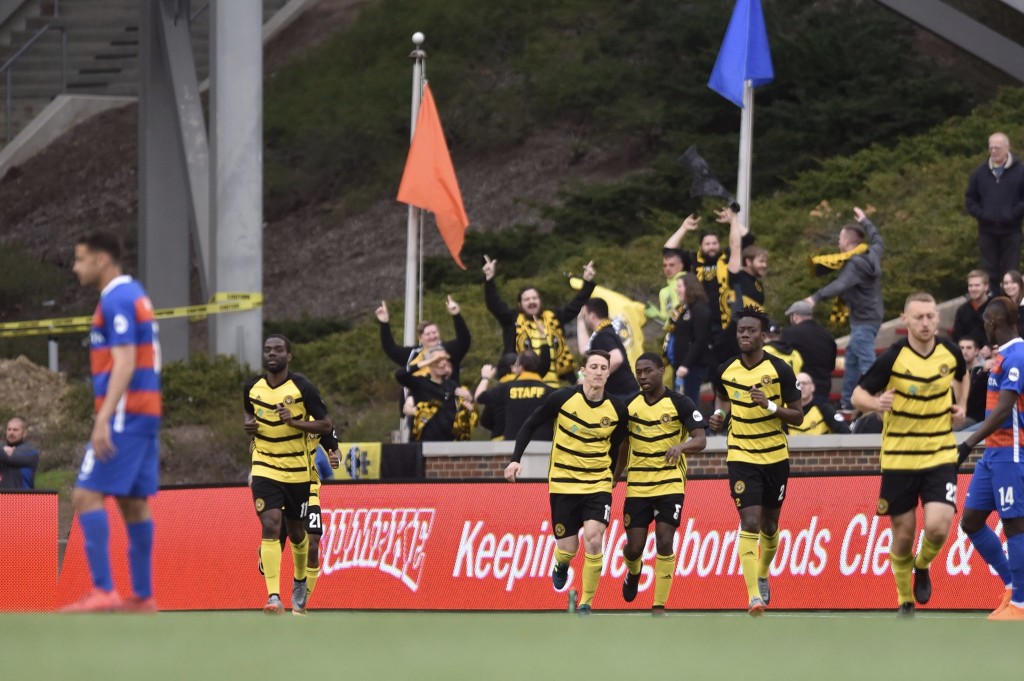 For whatever reason we seem unable to win in Cincinnati, but by far this was the closest we've gotten.
It was a match where the Hounds looked their worst this season for a loooong stretch of the second half and yet they're still coming home with a point. Ladies and gentlemen, I do believe we're going to be contenders this year.
Cincinnati really feeds off their crowd. Sucking the life out of the place is just as important as getting shots on goal. Those silver spoon Ohio jagoffs don't know how to deal with adversity. For a lot of the first half that's just what the Hounds did. An early goal from Dover and smothering defense has the Hounds sitting pretty. Cincy started to get some pressure towards the end of the first but it was sort of whatever. The second half was a completely different story tough. Cincy made some adjustments and came out determined to make the game their own. For the first time this season the Hounds looked kind of poopy. They didn't look as confident in the system and were a little jumpy. The defensive formation was starting to break down. You could feel something bad was coming. Cincy took advantage of an uncharacteristically bout of sloppy and scrambling defense to give the Hounds their first goal against of the season.
Despite the home crowd and team now being back into it, the goal was the shock to the system the Hounds needed to wake up. Lilley got some subs in and the boys thankfully settled down. It looked like they might try to grind out a draw until a near mirror image of last week's goal happened. Francois takes it to the goal line inside the 18, pass back toward the penalty spot, boom goal by Vancaeyezeele. Unfortunately our lead didn't last very long this time around. A sloppy clearance by Adewole setup Cincy for their second goal, and that was about all she wrote for the night.
For the most part Lilley's game plan seemed to work. We did what we needed to do, especially early on, but unfortunately a couple spots of sloppy defense did us in. Still, a draw in Cincy isn't terrible and we're still undefeated. I fully expect the defensive laps to be worked out this week in practice. Atlanta 2 comes to town this weekend. They're still a bit of an enigma, and did recently draw Louisville, but they'll be coming off a short week and I like our chances at home. I don't see why we can't keep this historic start to the season going.
Notes:
Cincy's camera angle and camera lens kind of sucks.
Lilley came out with a more attack focused starting eleven and bench than I expected. It did get results, but perhaps at the cost of the defense.
Dover caught both ends of the high risk / high reward quick pinch. He got a goal the first time, but later was burned and was forced to take a tactical yellow because of it.
Even without the goal Vancaeyezeele had his best night of the young season. Seemed a little more comfortable on the back line.
Forbes continues to have some really nice looking crosses, but not much happens on the end of them.
Lynd had more to do this game, but excluding Cincy's goals he still didn't have to deal with any really dangerous chances.
The ref would give a stiff breeze a yellow card.
Bit of a rough game for Adewole punctuated by the bad clearance leading to Cincy's second goal. I know he seemed a little off balance but you gotta bomb those type of clearances as far up the field as you can.
Despite Cincy dominating possession, they didn't get many changes to do anything. The Hounds almost always had two guys swarming the player with the ball, and often a third would float over. They can keep the ball all they want if they get bogged down in the middle third.
—
We're still trying to get the bus to Richmond filled up. Only a week to go before we have to make a decision. Make it an easy one and sign up today!
The Riverhounds Night Out is quickly coming up. If you haven't already gotten a ticket don't forget to take advantage of the package we mentioned in our post. The package does need to be pre-purchased with a deadline of Monday May 7th.
#UNLEASH