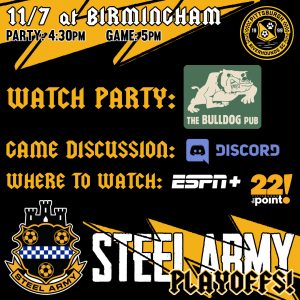 Spooky season is over. It's playoff season now! Join us at The Bull Dog pub in Morningside this Sunday as the Hounds travel to Birmingham. Kick off at 5 pm. Victory party at 7.
If Bull Dog isn't your scene the Hounds are also hosting a watch party at Highmark Stadium. Same bat time, same bat channel.
Two different watch parties! What a time to be alive! See yinz at one of them!
#UNLEASH